Browsing articles in "Outdoor"
Working out daily is fun and refreshing. It makes you feel great, light and will make you fell active all day long. In addition, doing it in public places with the use of public outdoor fitness equipment can be more fun and energy efficient. In this way, you will not only be physically fit, but rather earth friendly as well. Why you can be an eco friendly with this public fitness equipment? Simply because it does not uses any electricity to function. What is nicer with that equipment is that, you can use it free of charge. It's now time for you to go out have fun and be fit.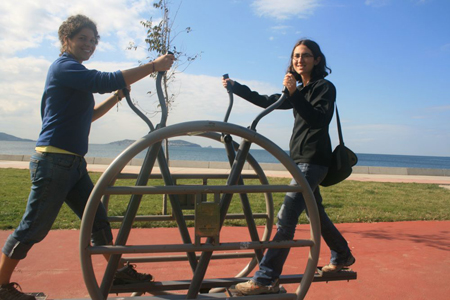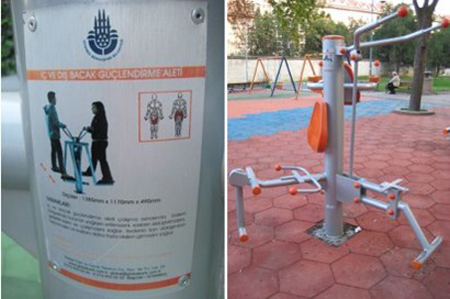 Source: Deniz Sport via greenUPGRADER
Made of sustainable materials, the visitor's bench by Frank Gehry has been designed for the World Company building in Tokyo. The bench is not just great because of the sustainable materials it is using, but rather it has an exceptional look that will surely invite every visitor to sit in. The bench is perfect for the largest fashion house of Tokyo, because of its elegant and fashionable design. This wonderful design of Frank Gehry is just another proof that being an eco-friendly person does not need to compromise the latest fashion and design and live in an old-fashioned way. With the visitor's bench, you can be hip and eco-friendly at once.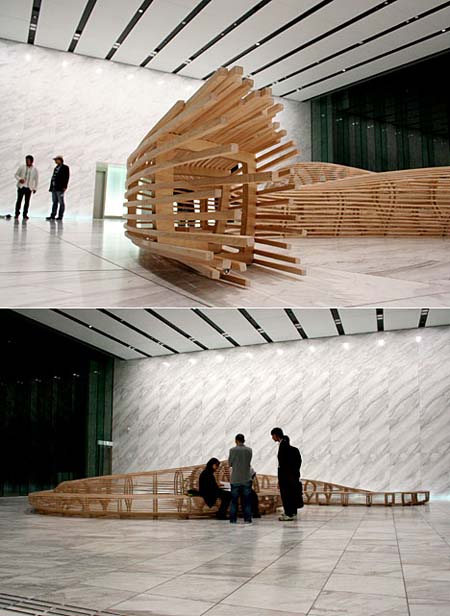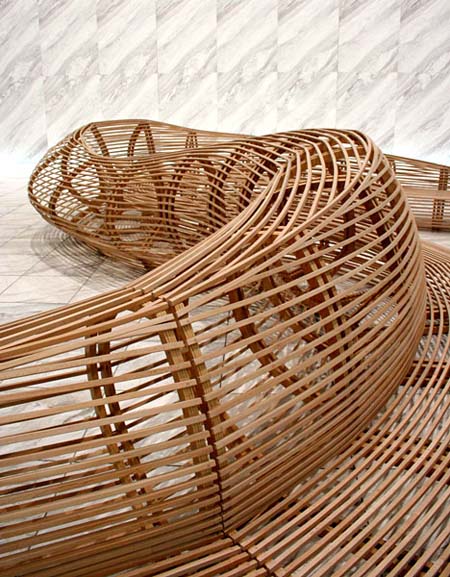 Economical and Fashionable Street light is what the lighting company Philips want to provide with their new Light Blossom. This light will replace our traditional yellow street lights. The Light Blossom has wonderful and attractive design that adds up the beauty of our busy streets. In addition, the Light Blossom is a solar and wind powered lamppost that moves to get enough power as the day goes by. During the night, the Light Blossom's LEDs beam will only turn lights on when and where needed through proximity sensing, and will glow at its minimum level when no one is around. However, when somebody passes by, the Light Blossom will glow to give the passers-by a comforting light.
Public seating is fun especially during break time while having some fun chat with friends and colleagues. This is also one of the common pastimes for most of us. Inspired by this activity, Dominik Schwartz – a student at the Free University of Bolzano under the faculty of design, has created the Typoase. It is a publix xeating facility that is made from wood and stone topped with grass that make it look refreshing. If you will have to take a look of the Typoase from above, its benches spell out the word TIME. The purpose of the Typoase is to provide public seating wherein people can have a chance to sit and have a short break.
Alkaline batteries are commonly known of being hazardous. It is not advisable to throw it anywhere and must be kept away from children. With this idea, designer Sungwoo Park and Sunhee Kim have created the Energy Seed. A super efficient LED lamp will light up your dark ways at night. This LED lamp will make the most out of your thrown alkaline battery, which is a good idea of saving energy and keeping the environment safe. However, it is still important to find a permanent disposal area of your hazardous corpse of alkaline battery, though letting the LED lamp drain out your alkaline battery is really a good way of saving energy.
via HardwareSphere via YankoDesign
When disaster strikes, many of our folks became homeless in anyway, and those homeless victims need some comfortable shelter to live in. This situation made the designer Rafael Smith came into the idea of the Uber Emergency Shelter. Very easy to install, and has a solar panels that can accommodate a small refrigerator and illuminates the whole shelter. The materials for uber emergency shelter can be easily shipped on a compact form, and assembles easily too. The only downside it has is that, it can be a bit shaky to materialize especially in an uneven area. In addition, the price of this shelter can be a big question. Will it be affordable enough as an evacuation area?
LED lights are now commonly used in almost all lightning needs. Designed by Niklas Löfber, the spiral is an outdoor lightning solution that uses wind to generate electricity required for its daily use. It composed of four main parts, which are the pillar, generator, LED, and translucent plastic shade. Lighting up the Spiral is not hard because it can generate electricity even with a very slow wind. The spirals design is very elegant that will surely ads the beauty for every plazas and amusement parks that will surely let every park goers enjoy. If the nature will not be able to generate electricity, a battery with a corresponding charger can also be installed in order for the spiral to continuously produce light.
A good place to get together with friends or families is the right definition for Art.Rainbow. A solar powered rainbow's end replica is supper attractive with the attractive colors that it has. This product is build for the multi-hued get-together throughout the day and even if they will extend it at night. During the day, the art.rainbow gives the right shade and protection from the sun while at the same time gathers they right amount of solar energy that can be used to light up and get rid from darkness when the night comes, thus make every people enjoy the art.rainbow during the day and even at night.
This recyclable shelter is called the Recover Shelter, designed by Matthew Malone, Amanda Goldberg, Jennifer Metcalf and Grant Meacham. Everybody can benefits its 100 percent recyclable feature. Another feature the recover has is that its structure's ridges can be used to collect some drinking water when the rain pours because it is made of a non-toxic polypropylene. The recover also has no harmful leaching or out gassing to contaminate the users or the environment. One more feature of the recover is that, it can be covered in local materials for insulation, and can be transported at the same time on the same trailer, and the most interesting of all is that, it can easily set up in minutes.
Laura Sink from The Art Institute of Pittsburg has just created the innovative and conceptual product called the Nature Levo. It is a small, vertical-axis turbine with a primary purpose of catching wind from any direction. This creatively shaped stationary object can be installed to any existing structures like the telephone pole, flag pole, chimney mount, or in your usual backyard. Created for Novomer Plastic, the Natura Levo has a necessary steel bearings, adjustable cylinder mount, and small housings. This product is perfect for today's generation of learners. It will teach our young learners to be aware of the things that can help us save the earth naturally.
Laura Sink says :
Natura Levo is a small wind, vertical axis wind turbine. It is a 66″ tall turbine that contains two non-traditional blades that can catch wind from any direction. These blades are fastened within a unique steel component which also houses the tapered bearings allowing the blades to spin with little friction. The center axis is a beautifully formed stationary shape that mounts to existing architecture. The intended architecture can be anything ranging from a telephone pole, to an old chimney mount, to a flag pole in a residential back yard. Natura Levo is intended to harness energy from a renewable energy source while co-existing with its natural surroundings. Natura Levo should be so beautiful that it raises awareness of natural energy by admiration of its design.

Natura Levo is made primarily of Novomer plastic, with necessary steel bearings, adjustable cylinder mount, and small housings. The steel components are machined, and with the exception of the housings, these are standard forms. The remaining steel pieces would be machined in 3 separate entities and welded together. The axis is Novomer and injection blow molded; the blades are a bit more involved. They would be formed in 4 pieces and snapped together. The nature of the rotation would strengthen the fastened segments by using the natural force. These 4 pieces would be injection molded.
via Tuvie
Our Recommended Partners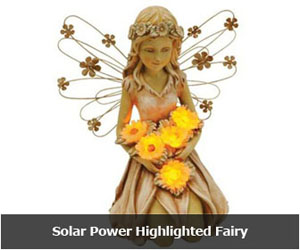 Advertise with us
Archives
Social Networks