Browsing articles in "Interior Design"
Cutleries are designed for our dining purposes. However, designer Luis Luna has a different view of these type of things and created a wonderful and innovative suspension lamp made of plastics wares like plastic spoon, forks and bread knife. This design of Luis Luna is one of the finalists in the house party competition by designboom, which is exhibited at 100% Design Tokio. I find the product is totally creative and perfect for any contemporary places like bars and restaurants and even in any modern and artistic homes. With this wonderful design made of plastic wares is obvious an eco-friendly one that made it perfect for environment friendly people all around the world.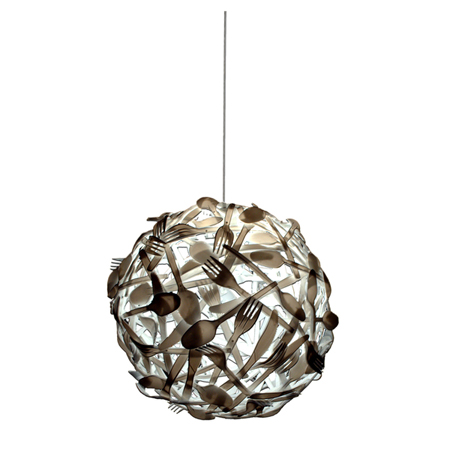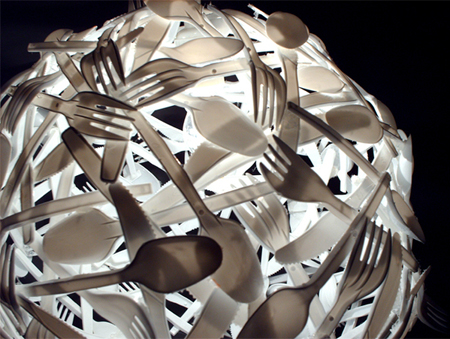 Christmas is the time for giving. When we give gifts to our love ones, why not give some to the environment. We can enjoy the Christmas season and being environment friendly at the same time with the cute and trendy Cardboard Christmas tree by Cloud Gate Design LLC. In this way, you have save big mount of money from buying those expensive Christmas trees available in store. In addition the cardboard Christmas tree is made of recycled corrugated cardboard, which made it an Eco-friendly one. This product is perfect for any contemporary homes worldwide. Own one now and have a Merry, green and eco friendly Christmas ahead.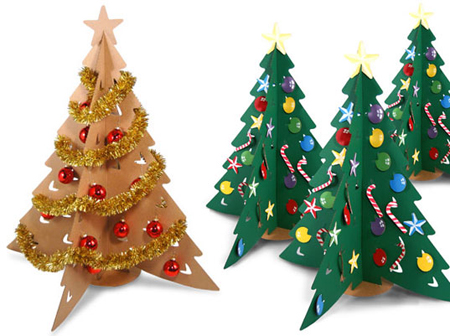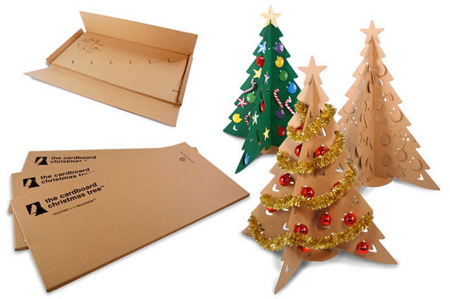 LED bulbs are now getting known as time goes by and people are getting aware of the benefits of living green and using some green or eco-friendly materials just like the LED light bulb by EarthLED. As we all know, LED light bulbs have mu,erous advantages as compared to incandescent and compact fluorescent lamps including the low power consumption, long lasting which is around ten years or more, and it has no hazardous content. In addition, LED are also tough even on a very cold or warm weather temperature. Using LED bulbs will not only lets us save the earth but will also lets us save money over the years with its low electricity consumption capacity.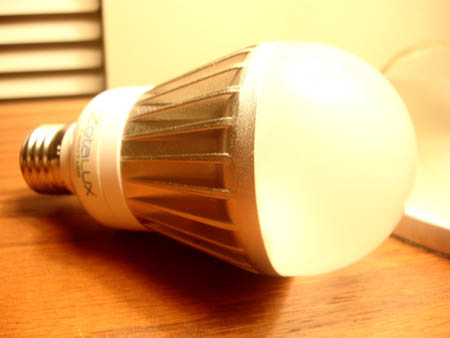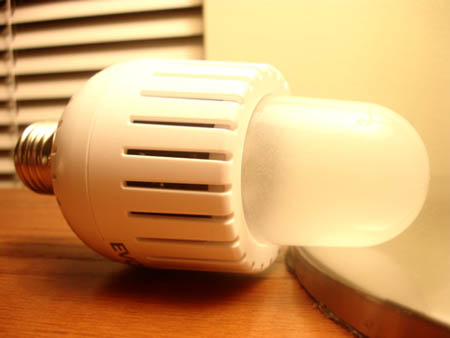 Folding chair are very common especially to those homes with limited space. It will save them lots of space if using these type of chairs than those bulky conventional ones. However, saving from space at the same time having and artistic and unique design of folding chair is an extraordinary package and Adam Goodrum was making this possible with their unique folding chair called the Stitch Chair. It has been designed to make a total difference with the conventional folding chair, plus it has the ability to go completely flat and it is entirely comprised of aluminum. The chair also bisects along a hinge for a small footprint, which is very impressive at 15mm wide when collapsed.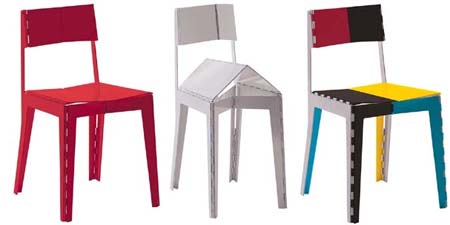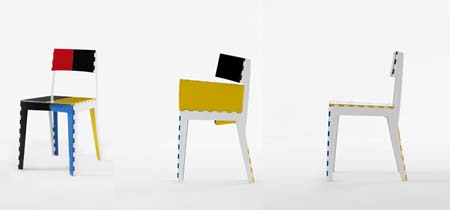 Source :Adam Goodrum via CoolHunting
Eco friendly and user friendly are the perfect words to describe this creative milk glass LED Night Light Lamp. This extraordinary design of a lamp can be used as simply as by placing it upwards to turn it on and upside down to turn it off. Aside from being Eco and user friendly, the Milk Glass LED lamp also has a unique and attractive design. It deliciously looks like a glass filled with milk. I find this lamp perfect for your hallways and can be your lamp all night long in lieu of a lampshade. Using a battery cell to keep it going, it is also an energy saving lamp.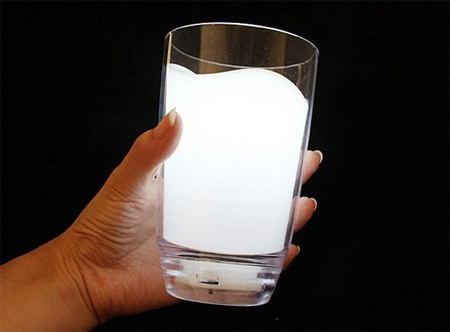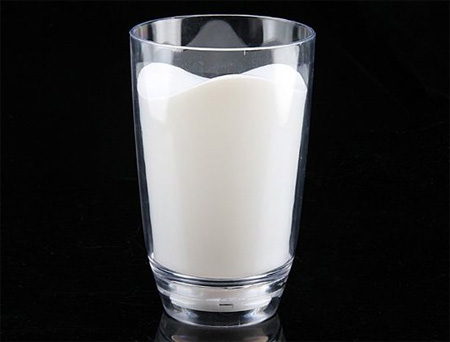 Made out of Magazine, this DIY magazine coffee table is astoundingly beautiful. What's more interesting about this product is that the coffee table can be made possible without the use of some nails, glue or any other tools. Plus, you don't need to throw away your old magazine anymore because you can use it in making this elegant and fashionable coffee table. See, you only do not have a nice coffee table, but you also help a lot in saving the earth from having mountains and mountains of landfill. I find this coffee table perfect for any contemporary places like homes, offices, bars or restaurants.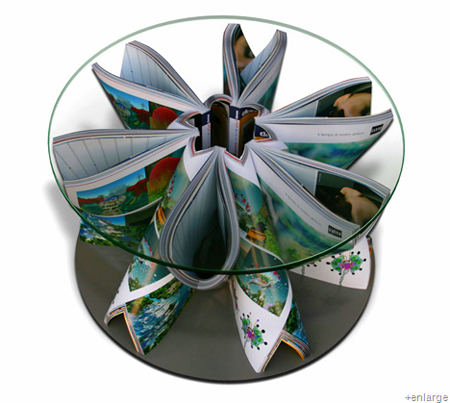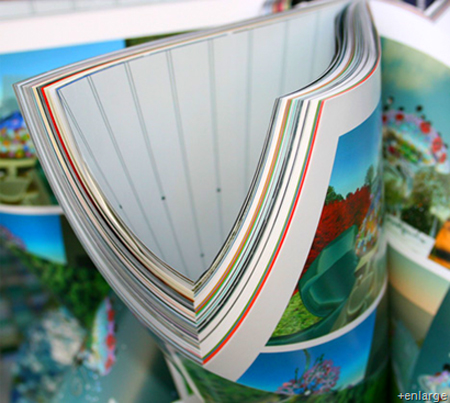 Made from a collection of unglazed bone china bells, the Susurrus Chandelier by Item are subtly altered by organic firing variations wherein each of them has the ability to produce distinctive shape and acoustic tone, which will surely be soothing to the ears and eyes. I find this contemporary décor perfect for hotel lobby that has large crowd that could witness and appreciate the beauty and brightness it has. Though it was made of collected unglazed bone bells, the chandelier not only lessens some landfill but the beauty it has also stands out.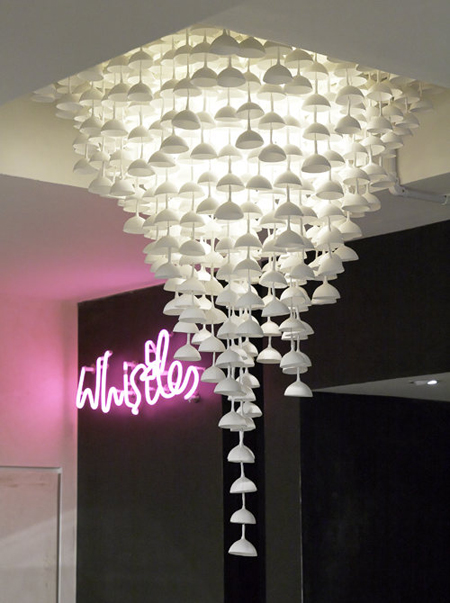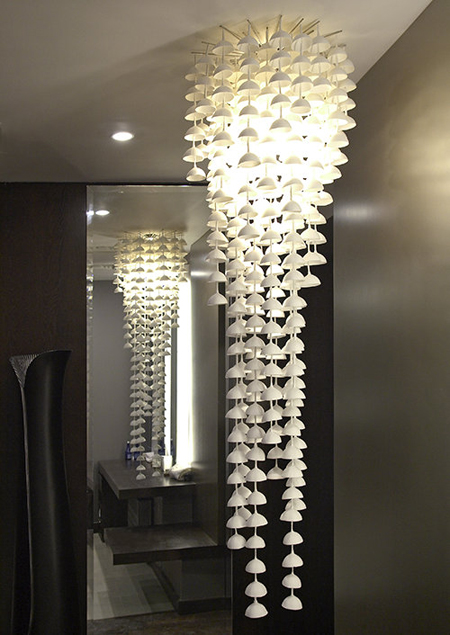 Folding or foldable chairs are just the only solutions we have with our common problem today, which is the space. Everything foldable is the bestsellers for those who are living in place with limited space that is why the 2F chair is created. Aside from it being foldable that definitely saves space, it also has the ability to change into different colors overnight. What is more about this chair, is that it is manufactured as small as possible that will obviously keep the chair save from space. In addition, it also has a sleek design that is attractive and trendy that is prefect for any contemporary home worldwide.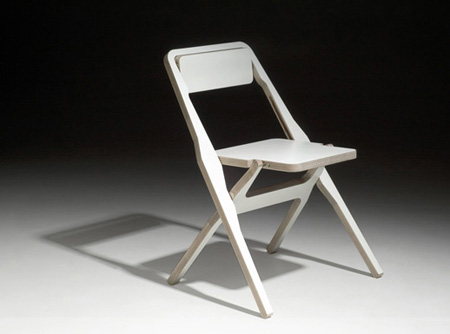 Source: Creadesign
Glory is a kind of light that can be used by hanging or placed in a flat surface depending on how you love it. It has tear like shape that makes this lamp more attractive and trendy. Its silhouette's beauty stand out in the dark because it has the ability to differentiate the light and shadow. I find it perfect for classy and trendy bars and restaurants because of its unique design and concept. The designer Masahiro Minami Design presents the product at Tokyo Design Week 2008. Other designs include the unique yui, a light with wood and glass that are tied with a string, the coat hanger called the kenkenpa, and the ceramic dish called the Pluto.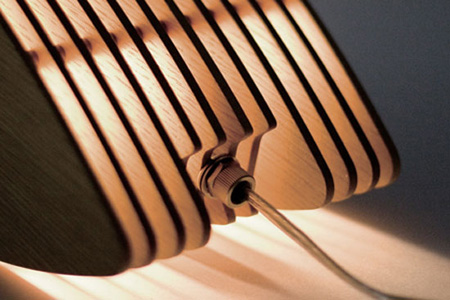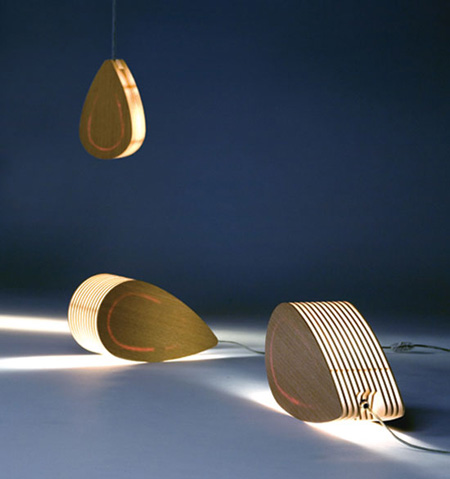 Solar powered lamps are very helpful especially now that almost all of us are trying to help in living green to save the earth. Designers Yoon-Hui Kim and Eun-Kyung Kim came up to an idea of creating a solar powered vertical lamp that can collect solar energy with the help of the blinds being closed during the day. When the blinds are closed at daytime, it will block the rays of the sun giving chance for the little solar pads to charge at the back of the blinds. And once the sun goes down the lamp will now start to light up using the power stored during the day.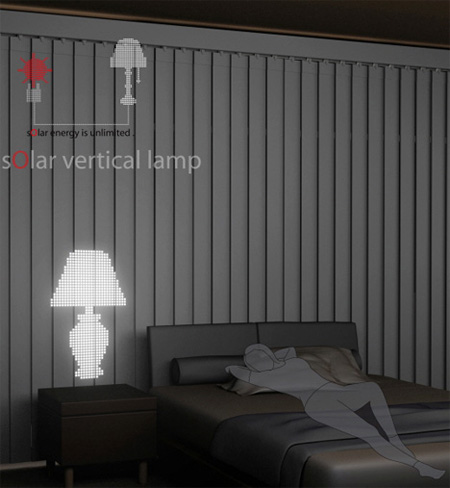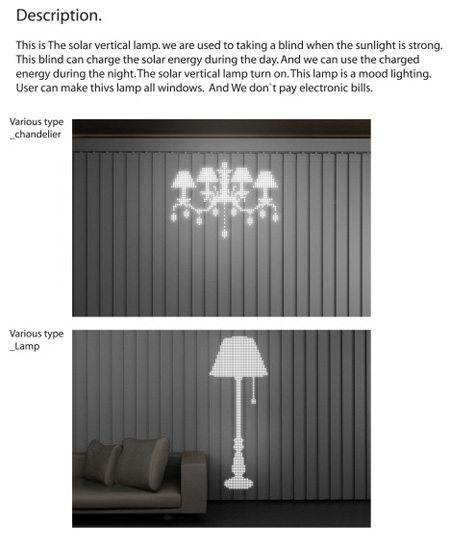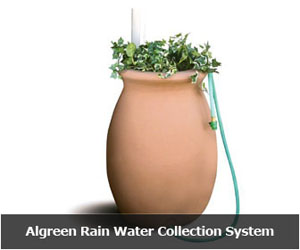 Our Recommended Partners
Advertise with us
Archives
Social Networks