Browsing articles in "Interior Design"
Completely handmade, Cardboard TRIANGLES Suspension Lamp offers unique, geometric shape to bright up any room. Each lamp is composed of triangles folded and assembled to each other, pretty cool for cardboards huh?
Due to the design, light would diffuse in the center in a play of shadows and lights. This round cardboard lamp comes in white or natural color with a diameter of 19.5-inch. Each unit is priced at 160 Euro.
From : Dany Gilles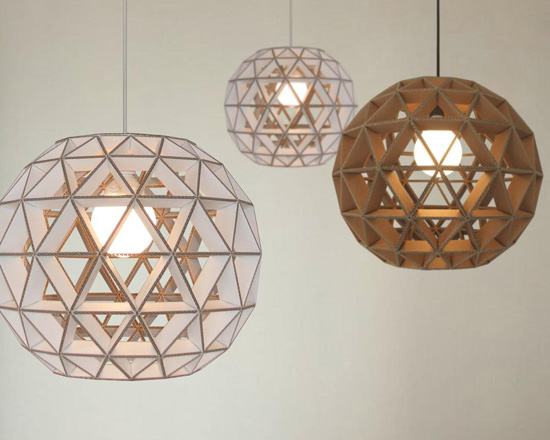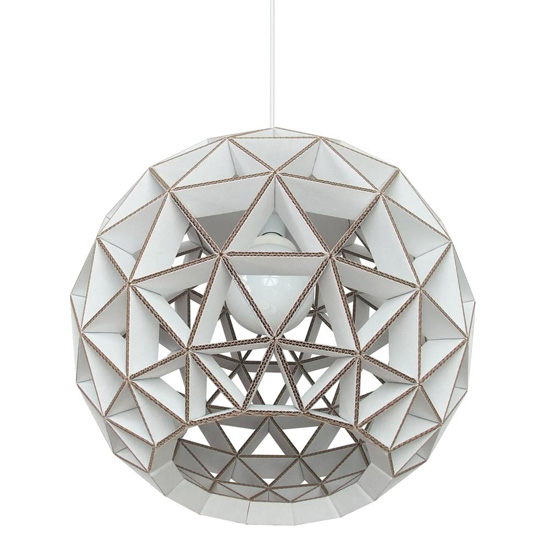 The combination of recycled iron and quality craftsmanship produces beautiful Sutton Recycled Copper Mirror. It's an elegant and beautiful mirror that features hand-woven strips of copper, a nice way to demonstrate that recycled products don't have to be ugly. We really love that swirling color and natural patina blends perfectly on a solid recycled iron frame.
The material, one-of-a-kind copper that contains 95% recycled materials and comes from a mill founded in 1801 by Paul Revere, so yeah, this mirror is available in limited numbers. Using only clean burning natural gas, the manufacturer uses only iron from local scrap steel. It means that the iron could come from used automobiles and byproducts of manufacturing. Available in 2 sizes: small and large, this mirror certainly highlights the room wherever you install it. [CLICK HERE to get more details about Sutton Recycled Copper Mirror]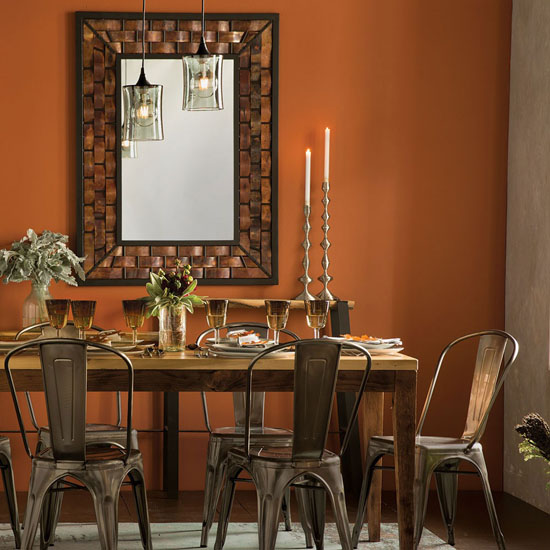 Available in 3 size options, Bucky, a bamboo wood reindeer would decorate your house with Christmas spirit in an environmentally, animal friendly way. It's a nice wall mount to display your love for wildlife without actually having to harm one. Each product is laser cut from fast-growing, naturally renewable bamboo, it means that you can also customize your own Bucky, just fit those pieces together and paint it if you want to, or whatever else you want to do to fit the room décor theme. The model is not just a reindeer, you can also buy a lion, an elephant, or a rhino head from the merchant. [CLICK HERE to checkout the price of Bucky The Bamboo Wood Reindeer]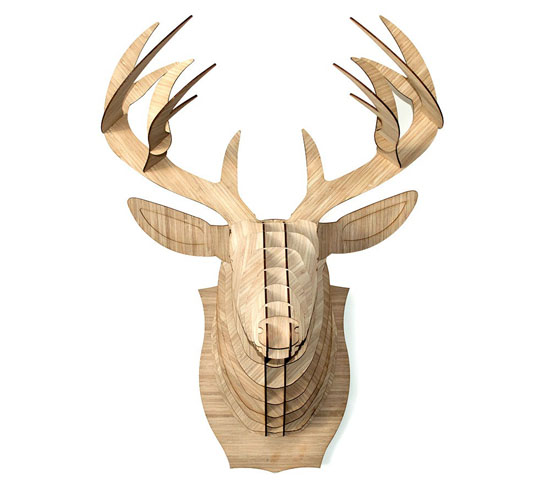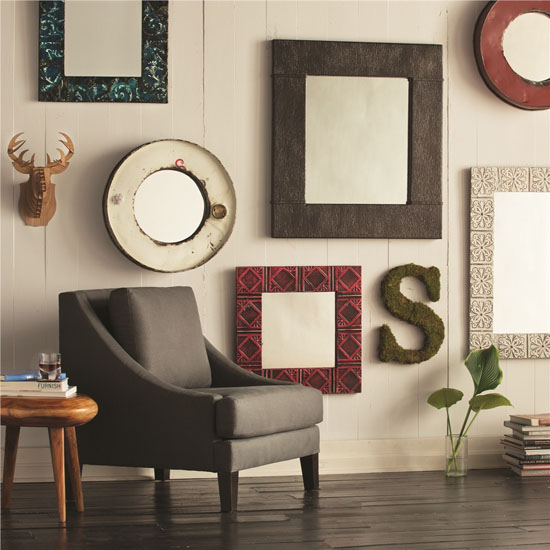 Update: It seems that this bamboo chair is no longer available, but we have found similar bamboo dining chair that you might, click here.
Made from Moso Bamboo, complete your house with this eco-friendly Bamboo Pure Harvest Dining Chair. This chair features clean and simple lines, adding modern and warm touch to your dining room. Besides looking good, this chair also offers comfortable seating experience.
The material reflects the warmth of nature, it's perfect for green conscious home owner, especially when the dining table is also made from Bamboo. Bamboo chairs would complete the set. It doesn't have to complete your dining space, it also goes well in any room of the house. Crafted from 100% solid bamboo, each chair demonstrates beauty, strength, and feel of exotic tropical hardwood. Yes, bamboo is sustainable material and is harder than red oak. Each chair is finished with a protective, no-VOC finish, it'll stand the test of time. [Click Here to get more information about this bamboo dining chair]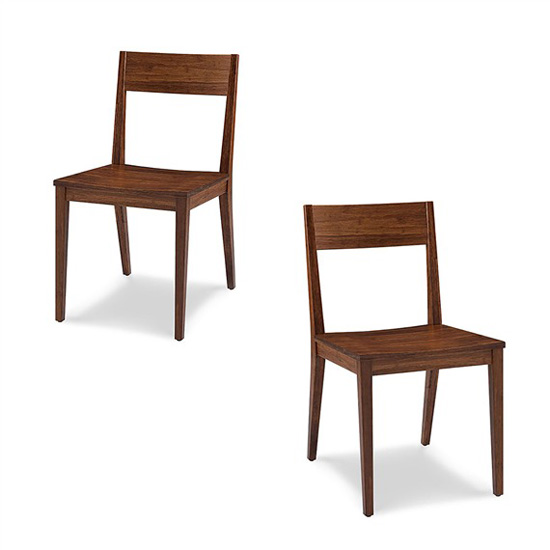 Show off your surfboard in style with this Tripped Barrel Bamboo Surfboard Rack. As a surfer, we believe that you do care about our environment, this wall rack is made from bamboo grain and finished with rich golden color. Even though it is mean for surfboard, this rack is also perfect to display your skateboards or snowboards. Tripped Barrel wall rack features nice, artistic style with great stability and only for limited time, this model is offered in carbonized and natural colorations.
Each rack is crafted from strong, solid ½-inch bamboo, it can support up to 100 lbs. The installation process is very easy since it comes with unique mounting system that requires only minutes to get everything done. We really love the mounting system design, making the cradles adjustable and interchangeable with other series. Made in USA, this wall rack will certainly display your boards in sustainable way. [Click Here to get more details information about Tripped Barrel Bamboo Surfboard Rack]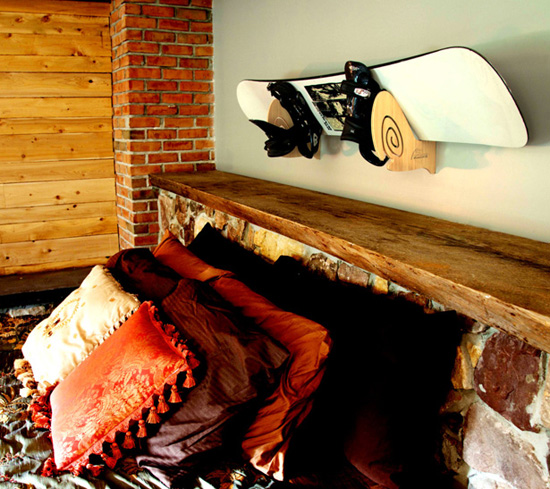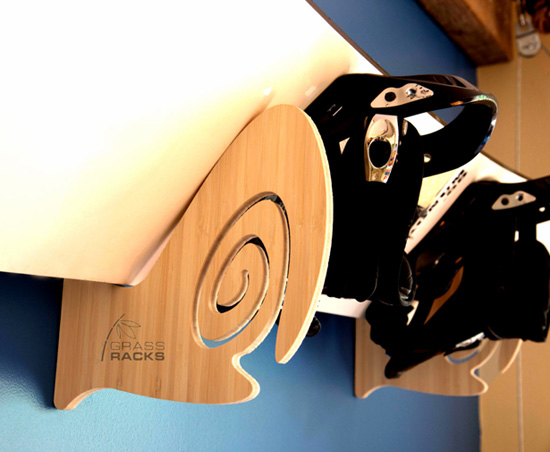 Butterply Desk, yes, you read that right, it's not a typo, it's not Butterfly, it's Butterply. Designed by an award winning design studio, UPSOP, Butterply Desk offers a practical desk that you can assemble without the need of screws or tools. It comes with several functional modules to meet user's needs, the height can be personalized, this is an elegant crafted furniture for your home or office.
Constructed out of sustainable plywood (hence the name), the innovative design allows the frame's height to be adjusted, thanks to in-house developed smart joinery system. This desk is weather resistant as well as moisture-fluctuations resistant.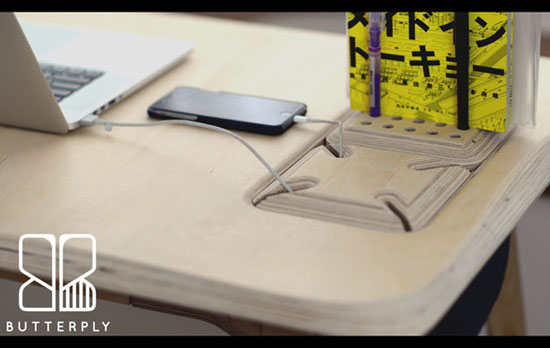 Made in USA, Glodea Eco-Friendly Bench X60 is a nice bench that you can place it at the backyard, front porch, or the entrance of your home. Each bench is handmade, featuring, modern and stylish design, it is also eco-friendly, crafted from FSC certified wood. Even though this bench arrives to you partially assembled, you can finish the final touch in less than 15 minutes, yes, that easy. Designed by Ignacio Santos and Fabian Ramos, Bench X60 features premium yellow pine wood from Alabama, combined with stainless steel, this furniture is designed to last for years with proper care and use.
The triangular legs offer great stability, allowing this bench to be used anywhere. We really love the natural knots touch, it adds a rustic charm to the overall design. There are several finish options that you can choose to complement your existing décor, at the same time, it also protects the bench from humidity. Glodea Bench X60 is packed inside recycled double walled box to make sure it arrives to your place safely. [CLICK HERE to get more specifications of Glodea Bench X60]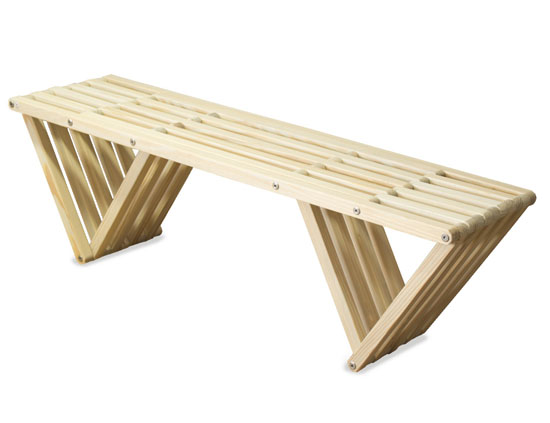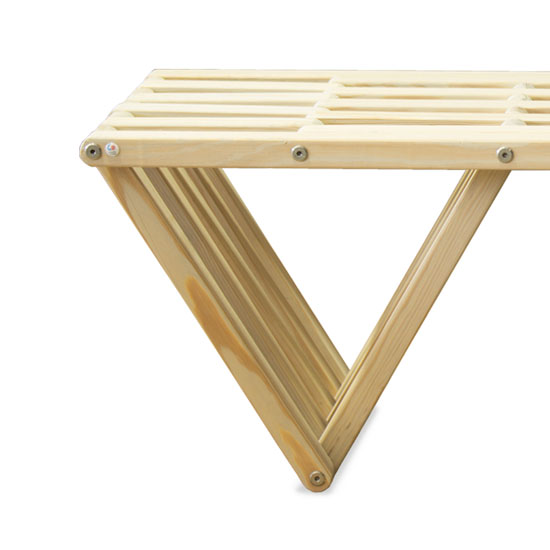 A beautiful décor and functional furniture, Greenington Currant Etagere Bookcase would beautifully organize your room. It features 47-inch wide, this bookshelf holds your books, magazines, photo frames in style, perfect for a living room or even an office. The simple structure features 5 shelves with a smart scale, the material is solid Moso bamboo, making it a sustainable furniture for your green home. Open and airy design, just like the style of vintage Mid-Century Danish Modern. It's a nice way to keep everything off the floor, place storage boxes on the shelves, you can organize them at the bottom.
This furniture doesn't have any plywood, particle board, or MDF, it is completely made of sustainable materials, also, bamboo is harder than red oak. The dimensions are 47-inch(L)x13.5-inch(W)x62-inch(H), make sure you have the space for it. [CLICK HERE to get more details about Greenington Currant Etagere Bookcase]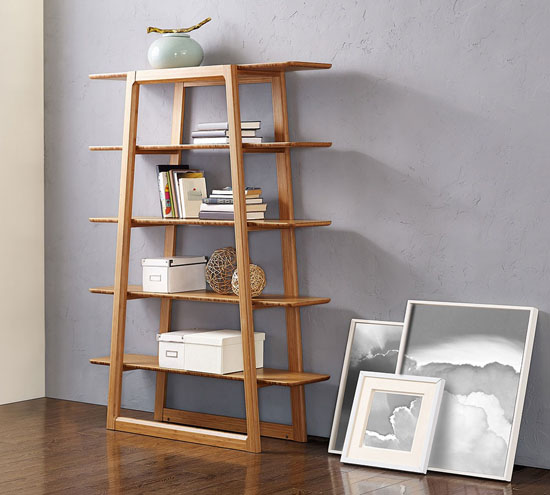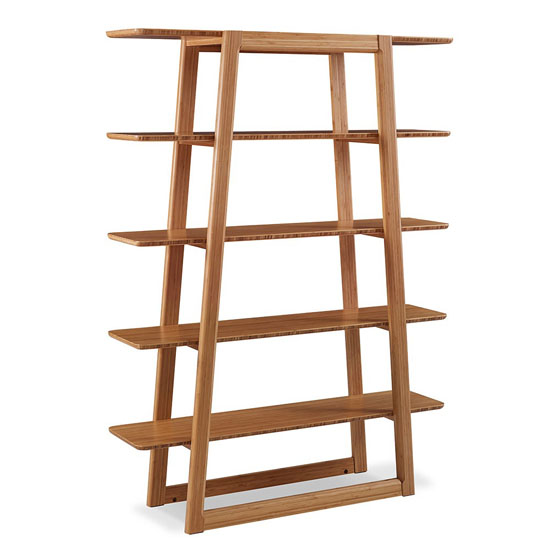 Hosting a dinner on your backyard would be much more festive when you hang these Aurora String Lights to light up the night. It's a solar powered diamond shaped light in white, after recharging in the sun, the light is ready to use at night. You can purchase multiple lights to decorate your porch or backyard. The energy efficient white LEDs would light up the area with its patterned glass, creating beautiful sparkle to their surroundings. Buy multiple lights and that set would be perfect for lining a fence or draped in a tree. Since it uses solar power, you don't need to worry about power cord or electricity outlet, nice, heh? Each diamond features 2.5-inchx2.5-inch dimensions while the string length is 25-inch. [CLICK HERE to get more information about these beautiful Aurora Diamond Shaped Lights]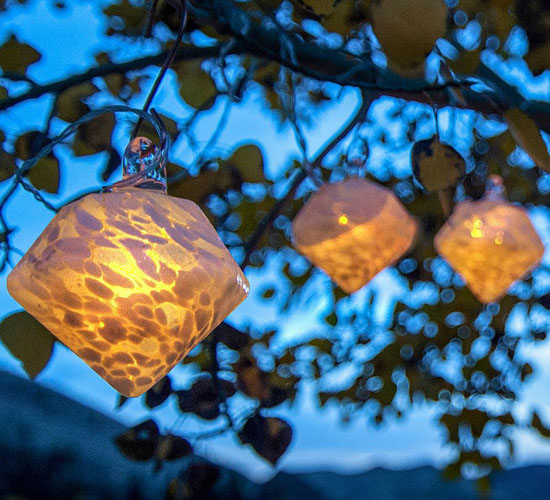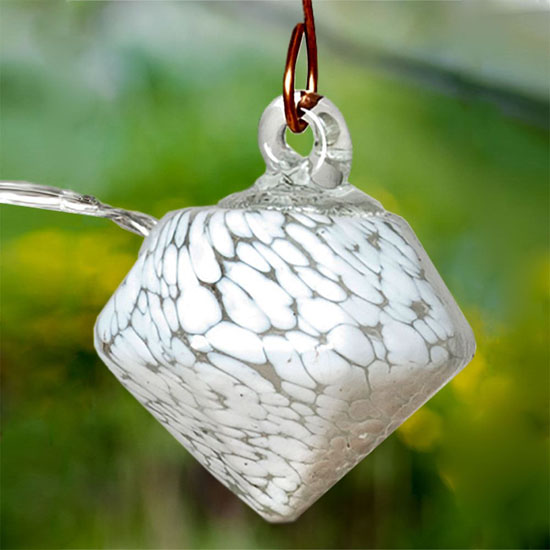 Gorgeous lampshade can be made with recycled coffee filters, you will believe this once you browse the collections from Vilma Silveira Farrell. Each shade is beautifully handcrafted by Vilma, so each one is unique and one of a kind. Using recycled coffee filters, dyed with blue water based paint, you'll get one cool lamp where its light flows beautifully through stains, what a unique design indeed.
Available in ceiling lights or table lamps, you can choose the color of the frame, from black, yellow, green white, or red, there are several color options you can choose. The shade features European fitting with open top and bottom for good circulation of air.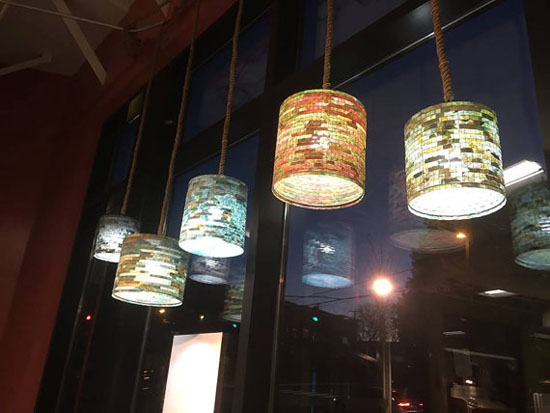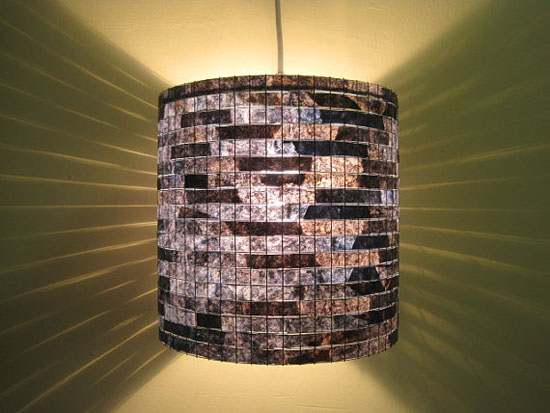 Our Recommended Partners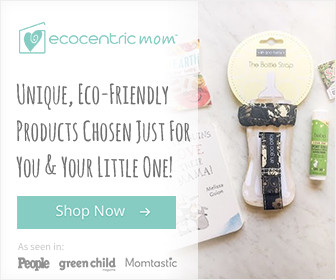 Advertise with us
Archives