Browsing articles in "Furniture"
Not all redesigns will hurt the environment just like the Rolling Chair, which is a redesign of the Eames Chair in the 50s that is once made of fiberglass and resin. The redesign is made with sustainability in mind. The Rolling chair is made of bamboo and ecological resin.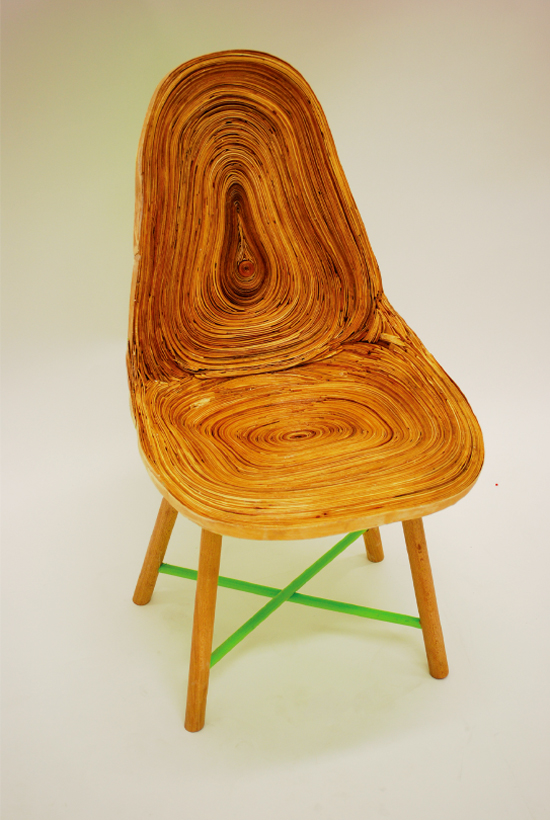 Seating on the Grass is a unique bench that every environmentalist would definitely love to own or sit. As its name suggests, this one of a kind seating instrument is filled with grass, which creates a feeling like you were sitting on your lawn.
We have seen those airplane trolleys pushed and pulled back and forth by flight attendants during our flights and now in our homes as our modern furniture through the Airport Codes.
Multi-functional furniture design is another tool to help save the environment. Being multifunctional, furniture pieces of this kind of design allow people to save huge amount of money as well as space for storage.
Looking at these cardboard tubes, I see architects, engineers, and architecture and engineering students. They are the ones I saw carrying these tubes on their back going to school or work. I never thought that are other uses of these cardboard tubes and the Chair and table made of these sustainable tubes simply amazes me. Aside from giving these tubes a new life instead of just simply tossing it to the curbside, the project also helps reduce waste and of course, save the environment from the drastic growth of landfills that will harm the environment and us in the future. These sustainably designed furniture pieces will surely look good in our modern homes.
An item considered sustainable is based on various considerations. The Panda stool is not only because of its multi-functional design but also because of the sustainable material used in it, the bamboo. Other than being multi-functional, the Panda Stool is also a space saver with its minimalistic yet stylish design. Presumably, the stool will be useful for both outdoor and indoor use. It will be a perfect seating solution for your dining area, patio, and more. Business individuals can also have the Panda stool as their stools at the restaurant, bars, and the like as well as in every modern office pantry.
Just like newspapers, books are considered trash after reading especially if it is a textbook or activity book. Except of course to those books you want to read repeatedly. Building with books is just a great way to make use of those piles of old books we have at home instead of just simple tossing them out. Building with books can possibly create a comfortable chair, a catchy shelf and a lot more. All we just need is to be creative as we can be. In this way, we can help reduce waste, give our old books a new life, and help save the environment.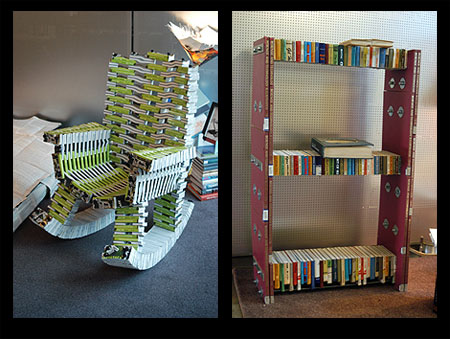 Source: Building With Books via Bookshelf
Recycling things is very easy and common when it comes to helping save the environment. This probably is the easiest and many opt to have it as their share in caring the environment as all they have to do is to collect old items and used it one more time for a more useful thing. The only difference that one can make their upcycled items or collections made of recycled items standout among others is to apply some art on it or put some artistic touch on it. The Greene Avenue Collection includes lovely bench chairs that are made from recycled orphan chairs. Three chairs of different age are put together creating a stylish artistic lovely bench for your hallway, backyard patio, dining table and more.
It is refreshing to in the woods especially during summer where every place in the city are hot and humid. You must be lucky if you live near the woods, for you have all the chance of getting into the woods anytime you feel like hot or humid and be there as long as you want. To maintain the beauty of the woods, an occasional cutting of the trees would be beneficial as it will give room for the young trees to grow healthy. Instead of discarding the cut trunks, it would be helpful if you will use it in a more useful and earth-friendly way. The Bosbank is just one of the great products you can take as sample. This wooden bench is made of natural tree trunk. To complete the bench, a four set of legs and galvanized brackets are installed and fixed using two orange straps, one on both ends.
I know many of us love reading magazines especially the glossy ones as they have excellent photos apart from the enticing articles we can read. After we read and re-reads all the article contents of a certain magazine, here comes the waste disposal problem that each of us surely have encountered. We do not have enough space at home to keep them and we will be adding so much to our landfills if we destined them to the curbside. The Magazine seat is the solution. Thanks to Hockenheimer who have the initiative to design the seat that make use of our old magazines. The seat has the wooden platform where you can pile up your magazine and top it off with soft cushioning for comfort. Put the magazine and cushioned seat together using a stylish belt, which surely will add up to the unique and elegant look of this eco-friendly furniture piece.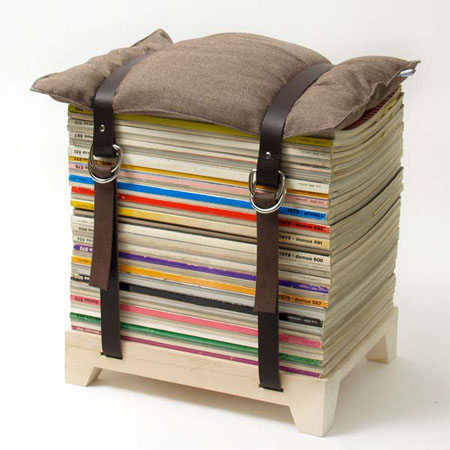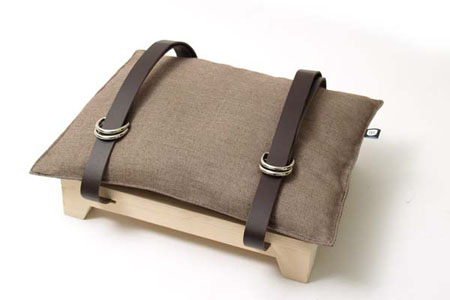 Our Recommended Partners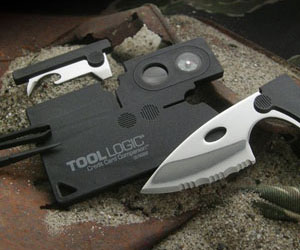 Advertise with us
Archives
Social Networks