Browsing articles in "Furniture"
We all need to save on cost when it comes to building our furniture pieces and the Sustainable Mail Bookeand Storage Shelf by Dor Keenan is a great example of cost saving piece of furniture. Because of the earth friendly mind of young designer Dor Keenan, the mail bookeand storage shelf is created made of recycled building mailbox.
Each of the mailbox unit creates an individual space working as a functional storage for many users. With Reduce, Reuse, and Recycle as important part of his design, Israel graduate Dor Keenan was able to recycle the Plexiglas of his old mailbox and have it as the useful shelf of his creation.
A shelving system with a hexagonal design is very rare and we at IGreenSpot find the Cracked Shelf System a unique one. It has the hexagonal type 8 design that made it a unique shelving system. This shelf system will surely stand out in every home the moment they are placed alongside with those traditional shelving system with the classic horizontal or vertical design. The design of the cracked sheld created an asymmetrical look, which make it even more stylish and catchy. The shelf is made of rectangular pieces of wood modules and these modules can be combined in any formation or direction seamlessly.
If you find the design is perfect enough for the most artistic human hand, this is because from its general shape to the smallest part of the shelf, all have been designed carefully using a trusted computer software. The shelf has the 1.5 mm thick steel that serves as the connector. These steels are laser cut and folded with the help of CNC machinery.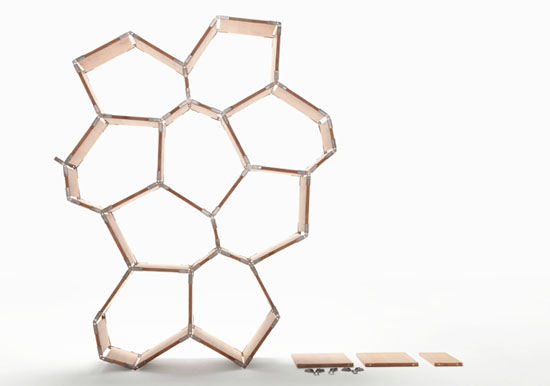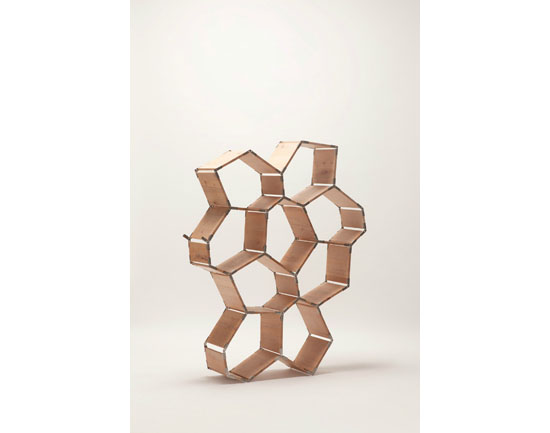 We now have a lot of eco-friendly furniture widely available in the market, one of them is Rewrite Desk by Iannone Design. The desk is a useful piece of furniture that will fit in perfectly with the saying "old meets new". You might wonder why it fits, simply because, the desk is a brand new furniture piece with modern design but is made of reclaimed materials. Meaning the materials used to complete the desk are old. [Click here to get more details about Iannone Design Rewrite Desk]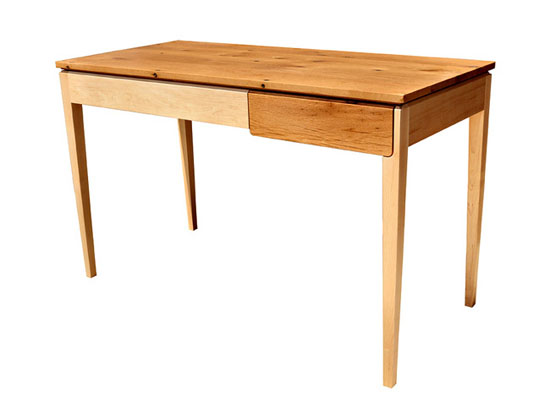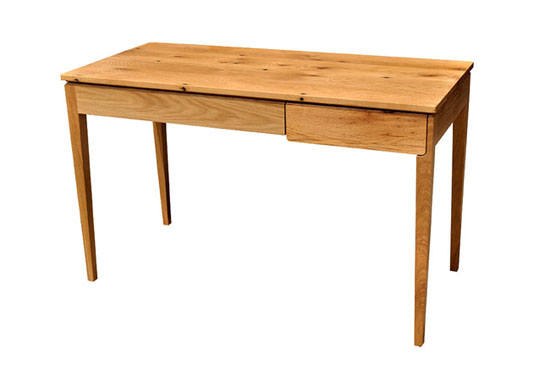 Even at his young age, David Joseph Goteiner shows his love for the environment and takes some of his precious time recycling those old traffic signs. He transforms them into useful furniture pieces. David shared his wonderful projects to IGreenSpot and we are excited to feature them here.
David is a sophomore student at UC San Diego and has a passion for design and sustainability. At his very young age, he has contributed so much to his community and of course to the environment. His designs have emphasis on simplicity and comfort.
Space is becoming a problem for every home especially for homes in big and crowded cities, that's why the idea of creating space saving furniture design like the Ludovico by Claudio Sibille was born.
With the Ludovico, you can definitely maximize the space in your room or home whilst maintaining your home's contemporary and elegant interior design. The furniture's concept is very simple. Ludovico is a storage type of furniture with four drawers in it. Within the furniture lines, the designer has custom designed two chairs that fit in it.
If you are not using the table and the two chairs, you can put the table on top of the cabinet, while the two chairs can be inserted on its designated lines. After doing so, you will only see a single furniture and that is the storage cabinet with the chairs creating ab image of four more little drawers.
If you are looking for a furniture piece that is made of bamboo the Cee Stool is the right one for you. Designed by Vault Design in Melbourne, the stool has the clean line and sleek design. A close up photo of the stool proves it.
The designers of this stool do not simply used bamboo but a cross-laminated one. Meaning, it is even more beautiful and eye-catching. The cantilevered design of the stool shows the strengths of the bamboo. If you were to look at a bamboo grass, you definitely will not think it can be an elegant material for many things. In addition, you surely will also be surprised of the bamboo's beauty and strength.
When it comes to our furniture pieces, we normally want to have fresh design occasionally, which ended us to buy new furniture pieces every time we want a new look or new design but this will not be the case if we have the FLIP Lounge by Danilo Cvjetkovic. As its name suggests, this stylish and functional furniture will allow users to flip the lounge transforming a then low seat furniture piece into a stylish high one.
With this capability, one will have the chance to change the look of their furniture pieces and eventually interior design every time they want or need to without the need to buy new pieces of furniture, which will surely require huge amount of money.
If you have bedrooms with limited space, time for you to go for space saving furniture pieces like the Oeuf Sparrow Trundle Bed. Sparrow Trundle Bed is a twin bed that with its trundle, it becomes twice as useful. The trundle will surely save a lot of space because when you opt not to put a mattress on it, it can be your spacious storage for your clothes, blankets, and the like. On the other hand, if your friends or family member have a sleepover in your house, you can simply put on a mattress on the trundle and voila! You already have extra bed for your friend. [Click here for more details about Oeuf Sparrow Trundle Bed]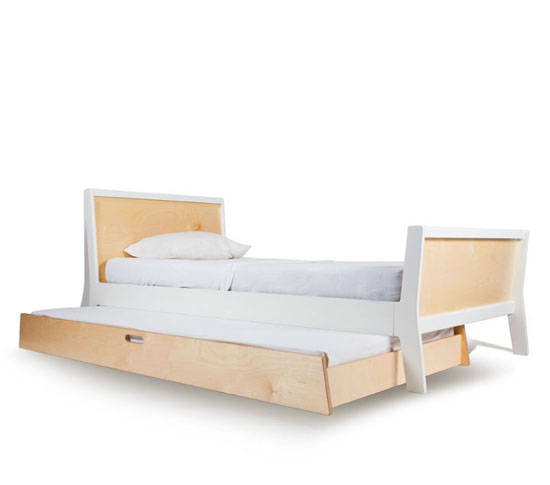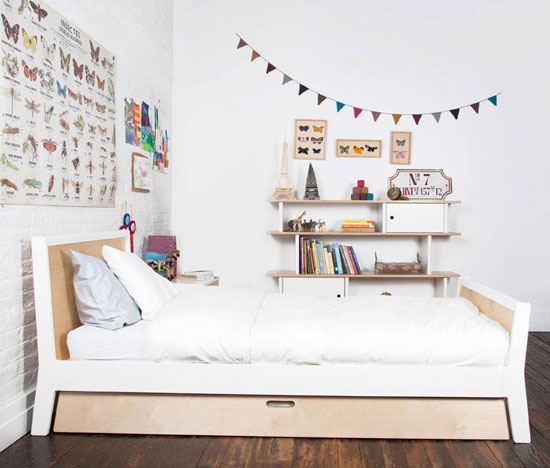 If you are one of those lovers of cowry shells, then you can complete your passion with shells now that the Cowry Sofa by Danilo Cvjetkovic is made. As its name suggest, the Cowry Sofa got its name from its inspiration, the cowry shell.
If you were to look at its design, it mimics the looks of the shell. Other than that, you definitely would love to sit or even coil up on this elegantly design sofa because it features a soft feel. The pure natural shape also made the sofa a perfect addition to your modern home interior design. You can match it easily with your existing furniture pieces and interior design items. Available in color red, the sofa will definitely create an elegant contrast to your subtle, softly designed interiors.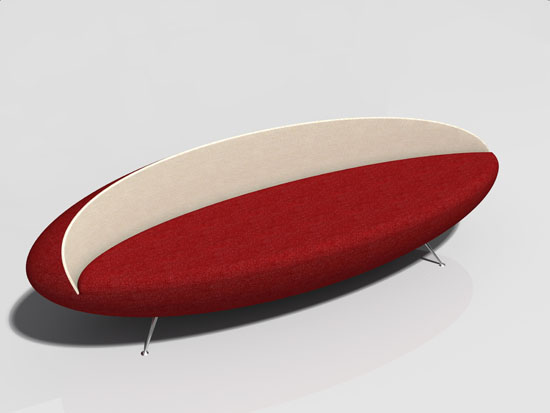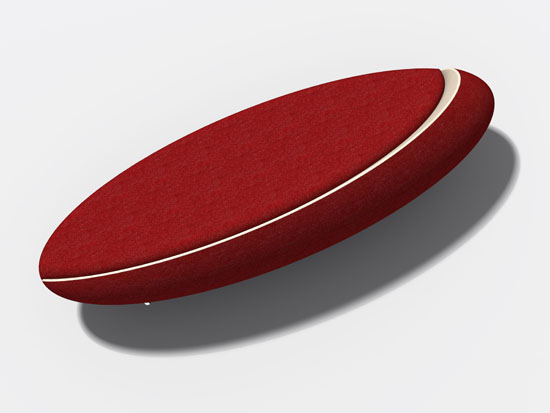 The Suitcase Stacks will surely give those old suitcases a new life. Instead of having them tossed off to landfills, you can now have them as your stylish drawers.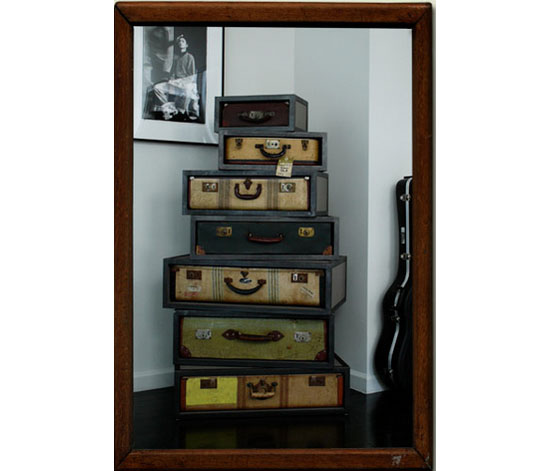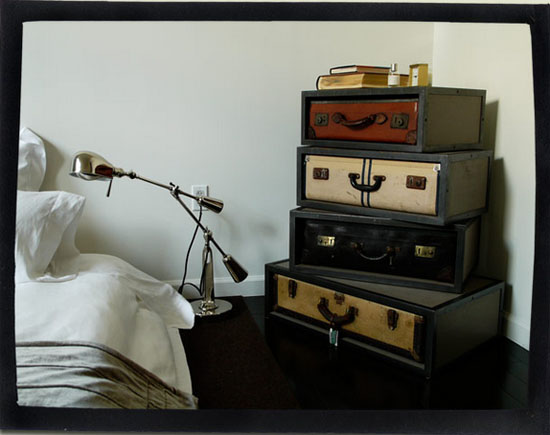 Suitcase stacks is a selection of old suitcases. Each of them is housed in cases made of wood and steel. Each of the suitcase used in the stacks are repurposed and relined using a Swedish linen making them ready to accommodate new contents. You can choose to have a combination of your choice that you think will match perfectly with your interior design and personality. With the Suitcase Stacks, there will be no more old suitcases in our landfills.
Source: James Plumb
Our Recommended Partners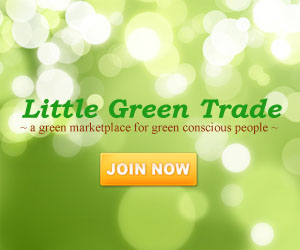 Advertise with us
Archives