Browsing articles in "Food and Drink"
It's natural and sustainable, CasusGrill allows you to enjoy BBQ without the guilt of polluting the environment. It's 100% natural product and totally disposable instant grill, unlike those metal/plastic BBQ grill. Setting up is easy, this grill is ready to use in less than 5 minutes, giving you heat for up to an hour to cook your food, of course with nice and crispy barbecued finish, anytime, anywhere.
It is made of FSC-certified cardboard lined with naturally occurring lava stone. The grill is made of bamboo so don't worry, it won't get burned, and the briquettes are made of quick Oxilite bamboo charcoal.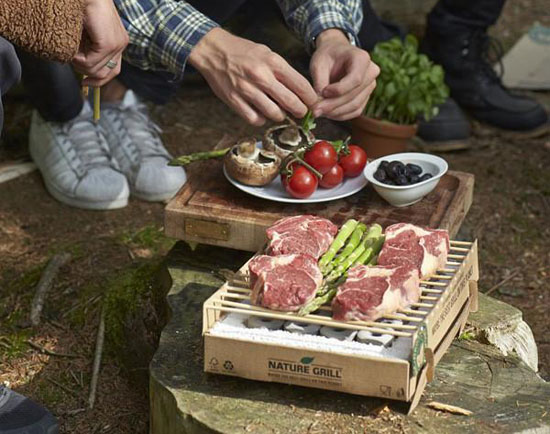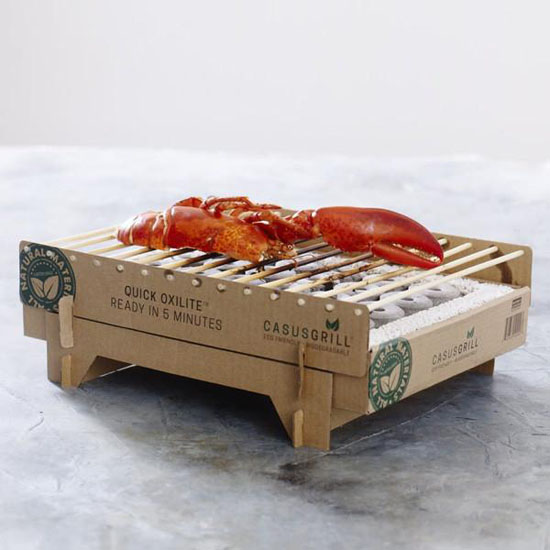 Take advantage of your food waste, Worm Farm Composter transforms any vegetable scraps to valuable fertilizer. The composter features modern and attractive design, you can place it in corner of your kitchen or near garbage bin, it's really easy, no fuss and no mess. Worms would do all the work, it turns your food scraps into nutrient-rich fertilizer, it's a nice green project to teach children about the environment.
Once the process starts, you can add up to 0.5 pound of food scraps per day to the composter (you need to purchase the worms separately). This amount is about an average food waste for a family of four. You need to also remember that 68-degree F is the ideal temperature for the composter.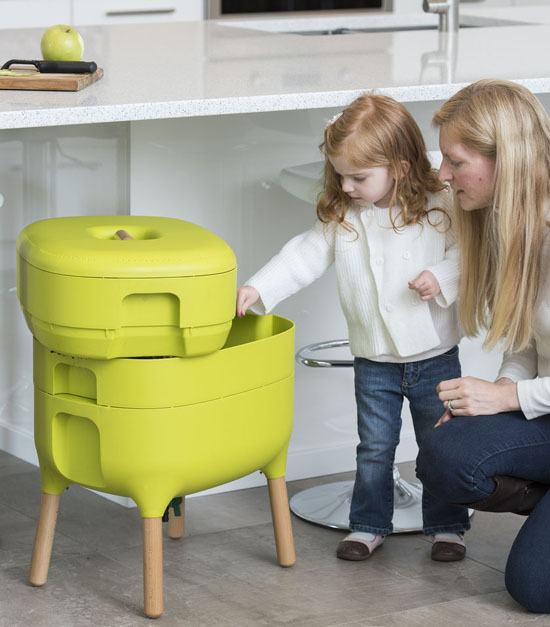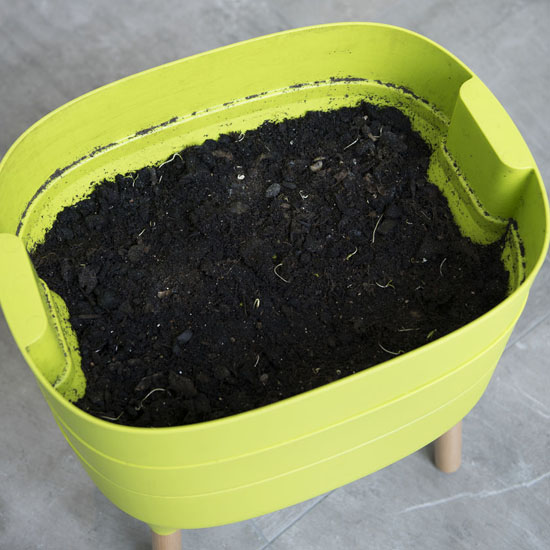 Carry your wine with you in a safe VINE Insulated Stainless Steel Wine Bottle. This wine bottle or wine growler can hold up to 750ml, a perfect traveling companion for a beach party or dinner party. You can safe yourself from carrying breakable glass bottle, no more pouring wine from a cardboard box. Each bottle carries EcoVessel's signature TriMax Triple insulation technology, it will keep your wine at the perfect temperature for hours, allowing you to enjoy your first sip to the last in great satisfaction. Enjoy your drink the way it was inteded, the technology maintains ideal temperature up to 36 hours.
It's a nice gift for anyone and yourself, thanks to premium 18/8 stainless steel, BPA, and liner free, this bottle maintains true taste of your wine. It's been designed with secure and leakproof top. The sophisticated packaging also comes with brush and funnel, nice isn't it? [Click Here to get more details about this recyclable Vine Wine Bottle]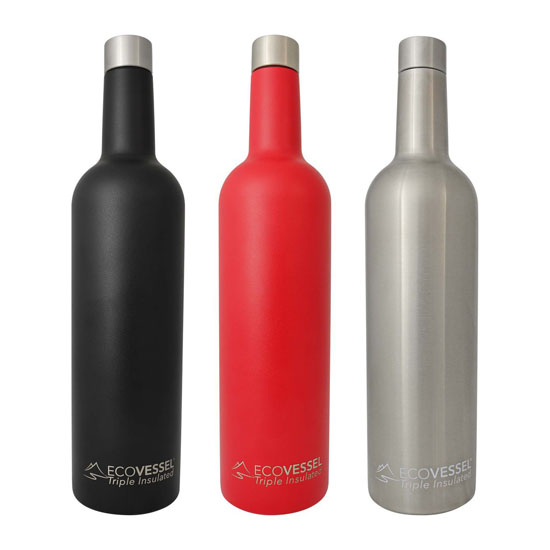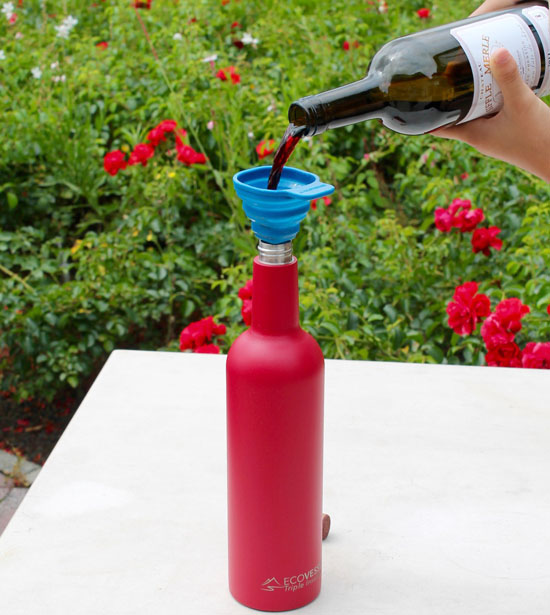 From : EcoVessel
We all know that glasses are non-biodegradable ones, thus not safe to be in our landfill and so, recycling it and giving new life to them like this wonderful eco-friendly Green Pressed Glass Wine Bottle Divided Serving Platter is probably one of the best things we can do to reduce glasses landing in our landfills. Available from Cypress, the platter is obviously made out of recycled glass bottle.
Since it is made of glass, it is surely will look like brand new one and classy enough to be on your dining tables. The platter measures approximately 13 inches by 3.5 inches by 1.5 inches, which is not too large to occupy too much space on your dining table but surely is spacious enough to hold your favorite dishes.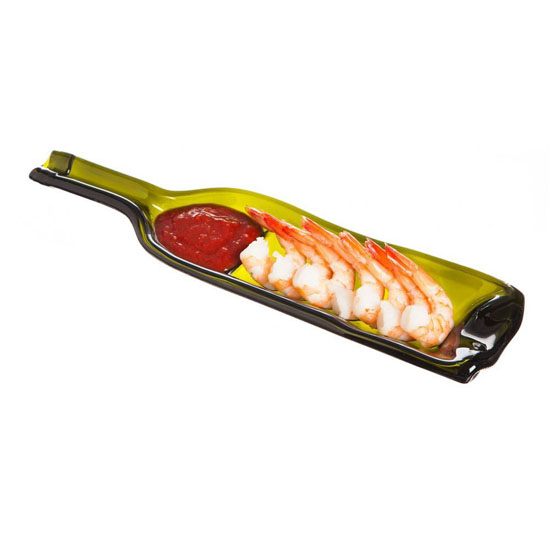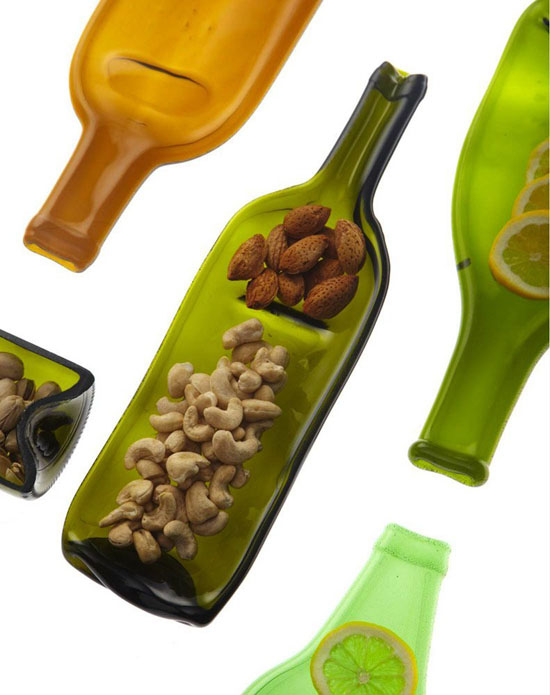 Talking about re-using a vintage film reel, take a look at this creative creation: Vintage Film Reel Wine Rack. We would have never thought that you can use a film reel as wine rack, not to mention it looks really good while doing it. When you want to create classic home décor, especially classic Hollywood décor, this vintage decoration would make the room comes to life, just roll the camera!
Cleverly re-purposed classic film reels make it perfect wine rack, an ideal gift for celluloid and Sauvignon Blanc lovers. You would love the attention to detail where each reel is accompanied by a vintage MGM movie, the name of the film can be read on the enclosure card nested inside the box. [Click Here to find more details about this vintage wine rack]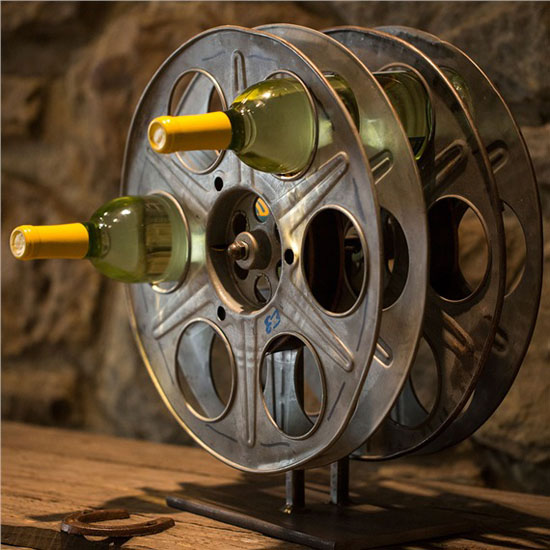 In this world, when we want to consume food of our choice, we search tips to make the food last longer. We are concerned about seasonal fruits and vegetables that are not available for the whole year. For example, in summers, we want Oranges and Strawberries etc. In winters, we want water melons, pomegranates etc. Due to technology, we can now enjoy all fruits and vegetables throughout the year. We can apply various tips to keep our food safe for long terms.
Many underdeveloped countries use old methods to store food for long terms, for example using herbs, salt, spices and vinegar etc. Several women who know home chores also adopt these methods to store food. Advancement in technology has helped to use various preservatives to store food. We have seen refrigeration, defrost and preservation strategies in successful homes of developing and underdeveloped countries. Some interesting tips are the following, which will help you a lot in preserving your favorite foods for long time durations.
1. Storing onions, ginger, olives and garlic for long term usage
If your home cooking requires usage of Garlic, Ginger, Olives and Onions, then some interesting tips are to firstly put all these contents in separate, clean and air tight containers. Second step is to add some salted water (brine), or add some lemon drops or olive oil or some vinegar. In this way, you can easily use any of these vegetables any time of the year. Refrigeration is suggested to avoid any fungal attacks on these vegetables.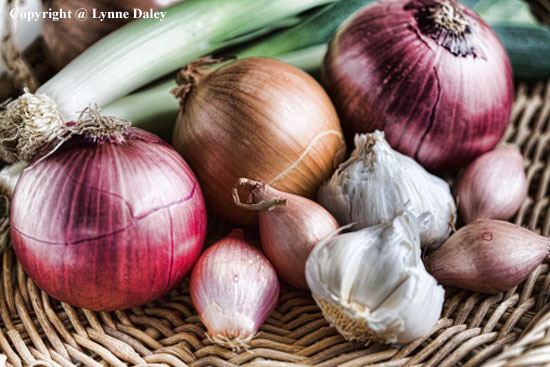 The bento craze is now hitting worldwide and you can ride on the bento craze wagon while keeping the environment safe using Stainless Steel Bento Box Food Oval Container By ECOlunchbox. Because it is a stainless steel lunchbox, you can use it repeatedly. In this way, you were able to help reduce waste and minimize the growth of mountains of landfills that we already have. All you have to do is to wash the boxes and it is ready again for reuse the following school day.
Another thing you would love about this eco-friendly lunchbox is it being BPA-free because it is made from high quality stainless steel. This only means, that your kids are safe from any harm. The set includes a large oval lunchbox that measures 6 ½ inches long by 5 inches wide by 2 inches tall that can accommodate two halves of a sandwich stacked with room on the sides for other items.
Work from his home studio, Neil Macqueen, an industrial designer, has come up with beautiful, modern furniture called Bolla Wine Rack. Inspired by the champagne bubbles, Bolla features playful approach to keeping your bottled goods. Not only wine bottles, you can actually keep up to 11 any standard bottles (120mm diameter) with this rack, it looks gorgeous in your kitchen as well. Bolla is constructed from a single repeating profile of 6mm poplar plywood, it has 3 pine support rods which are spaced using washers cut out from the negative space removed for the bottles. It's very sturdy, the whole structure is put into compression by screwing 2 end plates together, as you can tell, it's simple yet effective method to wine racks assembly.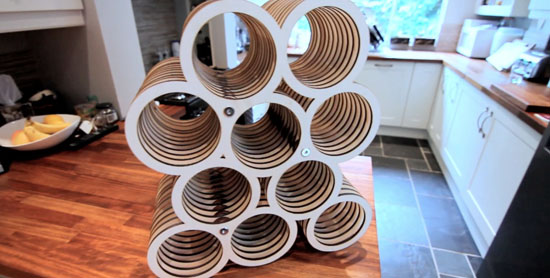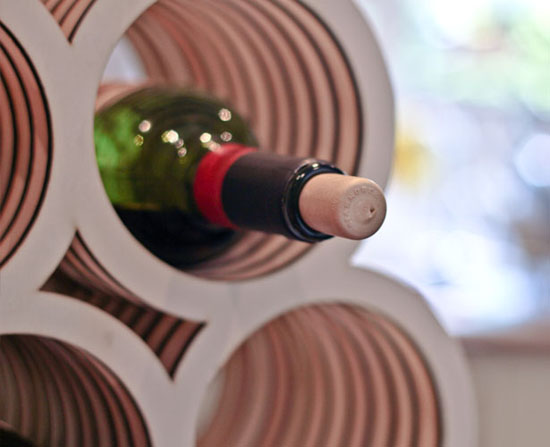 If you love food and want to save the environment, you must then use Ecolution Elements Eco-friendly Stock Pots. This pot has eco-friendly features like the absence of the chemical called Perfluorooctanoic acid or PFOA which causes the stock pot to produce less greenhouse gas. Other than that, the pot is also a water-based and nonstick kind of pot making it easier for you to clean, thus requires less time and water for cleaning. [Click here for more information about Ecolution Elements Eco-friendly Stock Pots]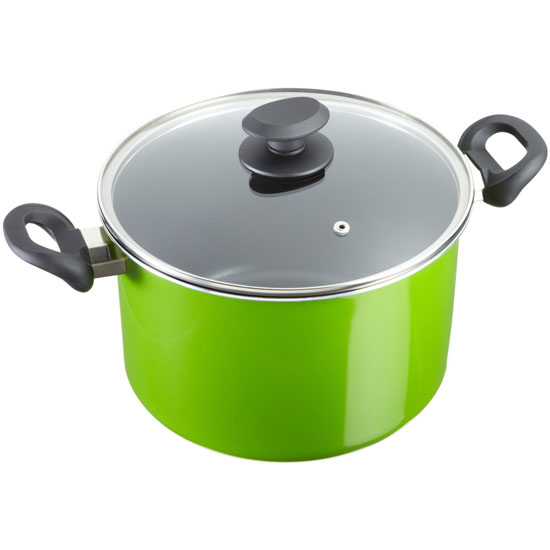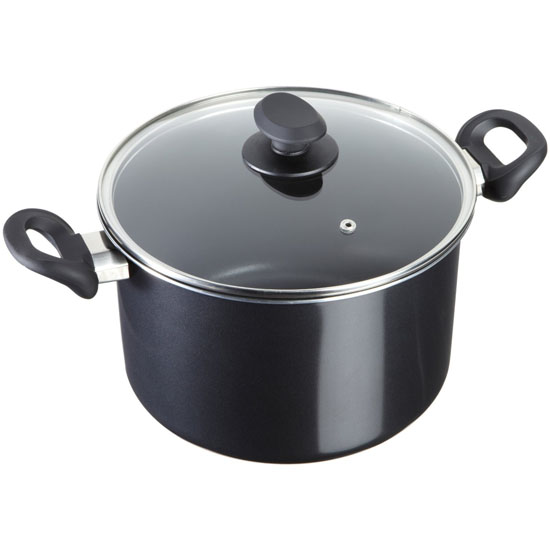 Having a picnic once in a while is a great way to distress and relax especially when done with care to the environment using an eco-friendly Eco-Picnic Basket for Two. This lovely and stylish picnic basket has various eco-friendly features including the 100% all-natural and renewable materials used in the production. In addition, the basket is also hand-woven, producing zero carbon emission, which is essential in keeping the environment safe and clean.
Other than the carbon-free manufacturing process and 100% all-natural materials used, the basket also has the insulated lining made of chemical free cotton and dye. In addition to the eco-friendly features, the basket also contains all the important things you need for your outdoor meal and adventure. Inside the basket, include two sets of dinnerware, plates, and utensils made of bamboo. The basket also has two glasses made of recycled glass, two embroidered napkins made of organic cotton, and a cutting board made of bamboo and cheese knife. The basket has the dimension of 15 inches in width by 11 inches in depth and 13 inches in height. This measurement may vary though because of it being a handmade product. [Click here to get more details on Eco Picnic Basket for Two]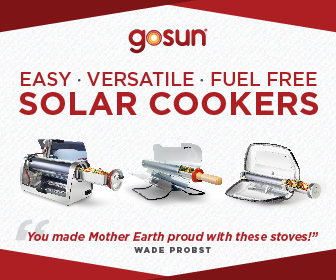 Our Recommended Partners
Advertise with us
Archives