Browsing articles in "Design and Concept"
As time goes by, more and more people have the ability to buy their own cars, which lead the air pollution and lack of parking space. Designer Bailey came into an eco-friendly car concept called the BRB Evolution, a hybrid car that runs both with electricity and with hydrogen. What is nicer about this car is that, it can be folded up to 50 percent of its original size. Sound amazing but it is true. This concept from Bailey, will surely answers our problems in parking space.
In addition to those helpful features of the BRB Evolution, it also has a sleek design that will surely catch everybody's eyes. Very sporty and elegant, I can't wait to own one.
How nice to know that RCA now unveils their sleek sustainable concept cars. Made entirely of aerodynamic glass, these cars are envisioned to answer the emission and energy efficiency issues that we have at the moment. They also have a concept that imitate a motorcycle and a sidecar with a split chassis and is called the red rocket-car. All of the Royal College of Art car concepts have energy efficient engines, ultra lightweight materials and driverless navigation systems. These car concepts are truly one of a kind. How I wish these cars will be available soon in the market. And for sure every would love to own one.
Proxima will definitely be the answer for the growing rate of motorcycle incidents. A concept by Alvino Design, the Proxima is a two-seater hybrid vehicle with a car view in front and a motorcycle look at the rear. This unique concept from Alvino gives its rider a chance to enjoy the two-wheel feel of a motorcycle while keeping them safe and comfortable as if they are in a four-wheel vehicle. When driving a Proxima, safety gear like motor helmets will not be needed anymore, because riders in a Proxima are all in-tucked with a fully enclosed cabin as if they are inside a car. Now who would say that a car and a bike could not be enjoyed together in one?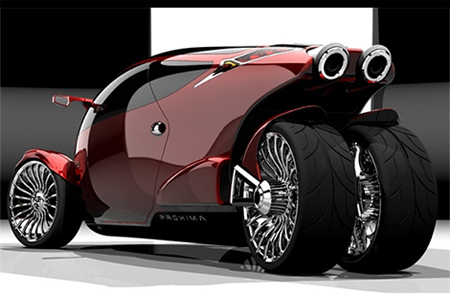 Foster with partners presented their new development proposal for the Italian seafront to connect the town and waterfront. The proposal promises to enhance the green-minded plan of this vacation spot. Rimini already has existing boulevards, and Foster's proposal is not only for a specific building, but also for the whole development that comprises the building and a new seafront that connects to Rimini's boulevards. The proposal will be using current earth friendly technologies like the rainwater collection and solar photovoltaics. And not just that, the proposal plans to establish a long term environmental strategy for the city. If this proposal of Foster and Partners will come into reality, it will surely be a hot spot for travelers.
It is now undeniable that our cities have been full of buildings and business infrastructures. However, how about having a farm in the building next door? Architects, designers and agriculturists in New York have collaborated that resulted to an idea of creating sustainable urban farms.
Some leaders are now considering of studying the idea in the future, and soon will come into reality. How I wish that this idea would be built soon, so that vegetables will be available immediately, and of course prices will maybe a bit lower, for travelling will not be needed anymore to bring the vegetable right at your doorsteps.
Source : VerticalFarm via ApartmentTherapy
Industrial designer Doron Hadar has created the Eco TreeCity – a public lighting concept. This elegant and ambitious concept uses an integrated freestanding solar element. The lights are randomly put together anywhere to make a unique tree like light. This concept is perfect in any weather, because the interactive system changes its light color according to the weather. It turns into a warm yellowish-white color during cold winter day and into cold bluish-white color during hot summer days. Festive color combinations of lights are also available for the holidays. In addition to that, this concept is maintenance free because the solar panels lasts for about 20-25 years and the battery life is about 5-7 years.
Source : Haatar via TheDesignBlog
Malaysian-born, UK-based architect Ken Yeang, has designed Fusionopolis. It is an eco-friendly structure to be built in Singapore. This 1.4 kilometer high building is designed essentially as a normal home. The building of this skyscraper is for Ken's intention in promoting green lifestyle even within the busy streets of the city. We all know that cities are all the polluted already and is somewhat impossible for green living. But Ken Yeang thinks differently. Though he admits that creating a truly green building in a city is to take multiple challenges, from the drainage and irrigation to picking up the right species of trees to be planted and giving them enough sunlight.
X-Architects from Dubai SMAQ from Berline have come to a design of a complex for sustainable living. The complex called the Xeritown is designed for the intention of having a more sustainable mode of development. The complex may have a classic designed, it aims to have a people oriented lifestyle and to minimize energy consumption. X-Architects as the lead consultant, in collaboration with SMAQ (Berlin), Johannes Grothaus with Partners Landscape Architects (Potsdam/Dubai), with the renderings of LeBalto, Marc Pouzol, Reflexion (Zurich) Buri Happold (London/Dubai), and with the commissioner and developer Dubai Properties, the project aims to conserve ecological resources like water, soil, flora and fauna to enhance the bio-diversity.
Another space saver, hybrid prototype has been designed and will soon be on our busy streets. From the idea of designer David Vargas, who designed the three-wheel eco vehicle for Peugeot Design, the prototype was called the Peugeot+. This chic looking two-seater vehicle uses a smaller electric engine compared to most cars of the same sizes. To attain better stability, the designer decided to add a third wheel. The Peugeot+ is perfect for crowded cities with parking space problems. This vehicle might be smaller than a car, but this is way far safer than a scooter. With the Peugeot+'s modern and elegant design, this vehicle will surely be a big hit in the future.
via TrendHunter
Eco-friendly cars had gone too far these days. Being a hybrid car nowadays is not enough already to become eco-friendly. Most of them are now made of sustainable materials. Just like what the Lotus eco Elise did. This car uses host sustainable materials to form up the body and trim. The materials used include an eco-wool called hemp, sisal and the new and high-tech water based paint. Paints can be applied by hand with the high quality finish. But it doesn't stop here. The Lotus eco Elise car has a solar panels on the hard top that helps the electrical system of the car, which reduces the drain on the engine and improves its efficiency.
Our Recommended Partners
Advertise with us
Archives