Browsing articles in "Cars and Transportation"
Renault Sand Jumper concept car would be the perfect transportation while driving on the beach. It's an electric car that takes advantage of the sun energy to recharge its onboard batteries using nano solar paint. Not only that, this concept car interior is also constructed from recycled PET bottles and other recycled or recyclable materials.
Cruise around at the beach and recharge the onboard batteries of Renault Sand Jumper in just over 8 hours at night. Designed by Luis Pedro Fonseca, this vehicle also features the quick charging mechanism to enable you recharge the battery in just 90 minutes.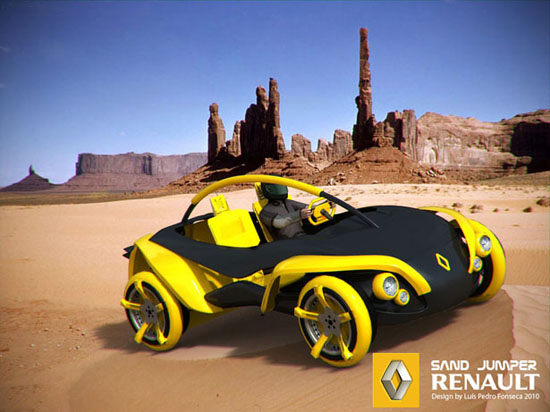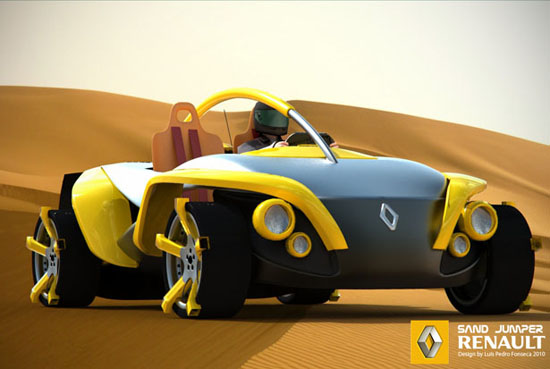 We have been waiting to have a flying car and the Pal-V Flying Car make it into reality. The pal-v is a hybrid car and gyroplane that cater two passengers at a time making it your personal air and land vehicle. When on the ground, the Pal-V serves as your land vehicle that runs as fast as your sports car.
Eco E-Trike is a concept vehicle submission from Stephen Reon Francisco. It offers sustainable technological solution in beautiful modern design to answer the need of eco-friendly mobility in our society. The industrial designer spent so much time to do some researchers to come up with a dynamic and powerful shape of Eco E-Trike.
As you can see the final result features the expression of passion, dynamic performance and novelty. The materials chosen, structure, coloring and modern design suggest a clean and efficient vehicle that enables individual to move with ease through urban city traffic.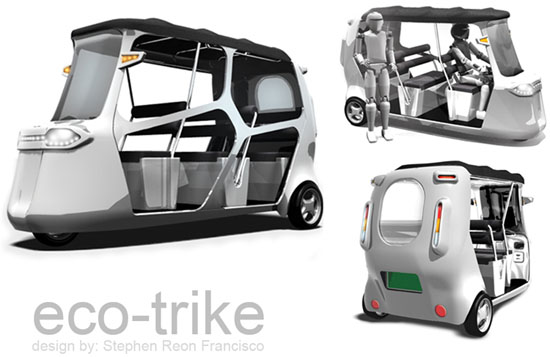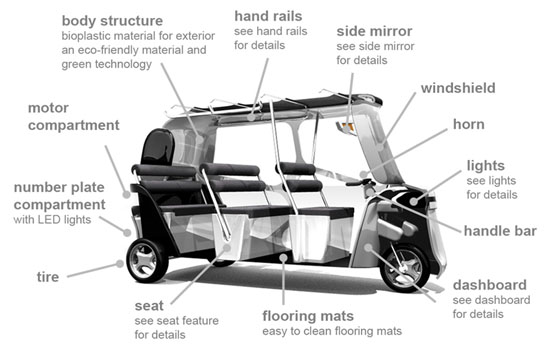 Kids and adults alike love biking and the Grow Bike by Alex Fernandez Camps will surely make someone enjoy biking from childhood to adulthood. As its name suggests, the Grow bike is designed to accommodate users of all ages. It features adjustable parts like the seat, handle, and frame length making it the bike that grows with you or your kids.
Uses a high quality aluminum material, the Grow bike offers numerous advantages to its users including the reduced economical as well as ecological cost. This is obviously because, there is no need to manufacture a new set of bicycle as the user grows up. Because of the adjustable parts, the bike grows with the user. This is highly beneficial to those who are do not want to spend so much on their sport gears like bike but want to enjoy doing it as long as they can.
After ten years of being away from the known La Sarthe Circuit, Toyota is now back on track for the Le Mans competing in the FIA World Endurance Championship with their new hybrid car, the Toyota TS030 HYBRID.
The car features a bred of pure racing hybrid engine that features unusual elements for endurance racing. Toyota's new TS030 HYBRID car is designed to give its drivers the extra performance they need on track while at the same time allowing its drivers to enjoy the benefits of fuel efficiency.
The Toyota TS030 HYBRID will start running in an electric mode. After a while, the driver will start dropping the clutch as a sign for the combustion engine to start kicking.
This new hybrid car of Toyota follows the iconic TS010 and TS020 cars, wherein both also had participated at Le Mans with success.
Since its launching, the Prius car models had gained the trust of the public in the United States when it comes to cars that made Toyota, busy in developing the Prius family extension with the 2012 Toyota Prius C as its latest Prius member in 2012.
The Prius C follows the Prius V, a larger hatchback type car that is now on sale in the US. The Prius C is a subcompact car and comes smaller than the previous model. Even though it is smaller, it has the style that made this hybrid car of Toyota standout from the crowd.
External Look Features:
Pinched nose
Slit-like grill
Triangular fog light openings
Aerodynamic front splitter
Hood strakes
The above-mentioned features of the 2012 Toyota Prius C made it a car closely similar to the larger Prius.
Compared to a regular Prius, the Prius C is 19.1 inches shorter but is four inches longer than the Yaris Hatchback is. In addition, the C's wheelbase measured 100.4 inches, which is 5.9 inches smaller than the standard car's wheelbase. This new five-door eco-car of Toyota will have an aerodynamic and sporty design.
Volvo Car Corporation will present the Volvo XC60 Plug-in Hybrid Concept Car at the 2012 North American International Auto Car Show in Detroit. Being a hybrid car, it is expected to be economical but with a powerful high-performance and has an excellent design. Deciding which power to use is dead easy for the user because, with just a touch of a button, user can choose between high-performance gasoline engine and the electric powered motor.
As an economical and high-performance car rolled into one, the Volvo XC60 Plug-in Hybrid Concept Car will let you make green progress while on the road without compromising any of the properties a luxury car owner has to enjoy.
We believe that you've heard the term of "hybrid car" or "hybrid SUV" quiet often, but do you know what it means? As part of our effort to save the earth, we can't stress enough how important for you to go for hybrid vehicle instead of conventional vehicle. The definition of a hybrid vehicle is given when a vehicle is having more than one type of power source to run its engine. "A hybrid vehicle" term usually refers to Hybrid Electric Vehicles (HEVs) that combine electric motors with gasoline engines to achieve better transportation for the environment. How? Together with the gasoline engine, these electric motors provide assistants to enhance the vehicle's power which later causing the engine to run with less gasoline.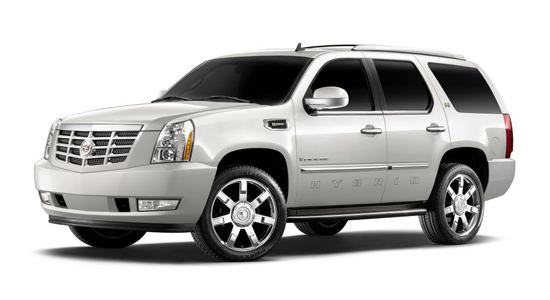 Hybrid cars were experimented for many years ago till the experts finally came with innovative breakthrough that allowed Hybrid car becomes practical transportation like we know today. Nowadays, all major automakers produce their own version of Hybrid to meet high market demands for fuel-efficient transportation from the combination of electric and gasoline to totally electric vehicles. It's a good news, if there are high demands for hybrid transportation, this can also mean that our society has realized the importance to reduce the level of pollutants in the air thus reducing the effects of global warming. In most countries, the governments are also very supportive to help create greener earth by offering appealing income tax deduction for those who purchase hybrid cars or SUVs.
Vinyl records are obviously outdated these days, but the trio consisting Merel Slootheer, Liat Azulay, and Pieter Frank de Jong created the Feats Per Minute and make use of an old vinyl records and a bike to play or record music.
If you want to transport your items like some produce and the like and want it done in an eco-friendly way, the Johnny Loco Cargo Cruiser is the best tool to use.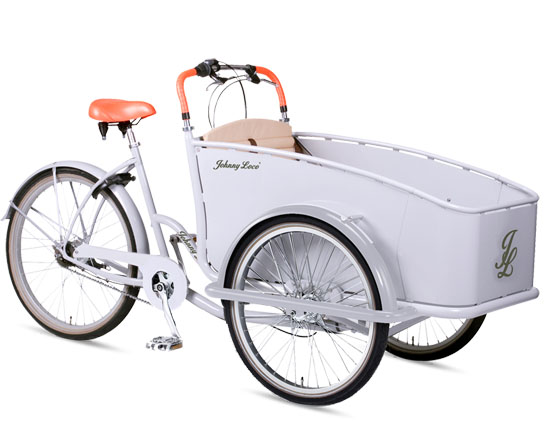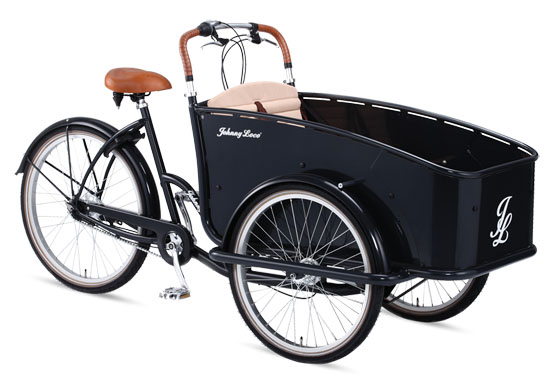 Our Recommended Partners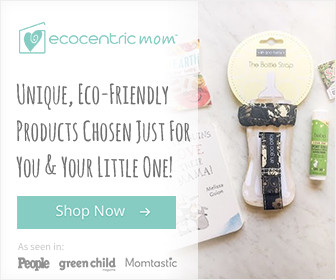 Advertise with us
Archives