Browsing articles in "Architecture"
Let's bring farm back to the city, I guess that what Work AC thinking when they were asked by New York magazine to create a dream up proposal of NYC. We really like the idea of vertical farm, food being grown right in the city, urban farming. "We are interested in urban farming and the notion of trying to make our cities more sustainable by cutting the miles [food travels]" said Amale Andraos, co-principal (and wife) of Dan Wood (also co-principal) from Work AC. Underneath is what appears to be a farmers market, selling what grows above. Artists would be commissioned to design the columns that hold it up and define the space under: "We show a Brancusi, but it could be anyone," says Wood.
Source : New York Magazine
In the future, perhaps we'll see this solar powered environment as the result of today's energy saving campaign. MoSESS (Movement sensors energy saving system) is the technology that can detect movement to provide illumination from big solar panel throughout all night. All objects that are part of this concept are connected to each other by an underground connection and also to electric grid which enables sharing of leftover energy in cases when this is needed.
Public facility such as telephones, ATM, internet services, bus stop will consume less energy with the help of solar cells, I can imagine that we live in such a futuristic way and at the same time help to our environment.
Solar street stand booths are popular way of shopping. They can sell and show different kinds of things ranging from food, clothes, souvenirs to information pamphlets and ads. These street stands consume electric energy for illumination, refrigerators, cooking…etc. Solar panel stores electric energy in batteries that are placed in the storage box. Solar street counters are independent from electric company network. They can be easily moved and placed into different locations by trucks (and small transportation wheels underneath the construction of the counter itself). The possibility is endless if we truly want to save our earth, including this futuristic concept from Nikola, anything is possible.
Designer : Nikola Knezevic
City Center Lofts is a modern condo designed by Adam Kalkin, a container architecture expert. This building will be constructed with 50% recycled content by weight and include features such as green roof, natural light, on-demand hot water heaters, low VOC paints and finishes, and high efficiency air to air heat exchange. It's really exciting to see another building with global warming awareness. Construction completion is set for March 2009, if all goes as planned.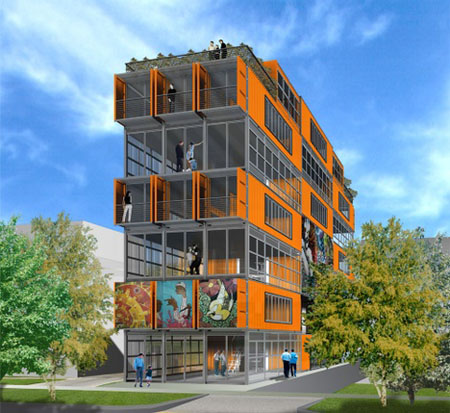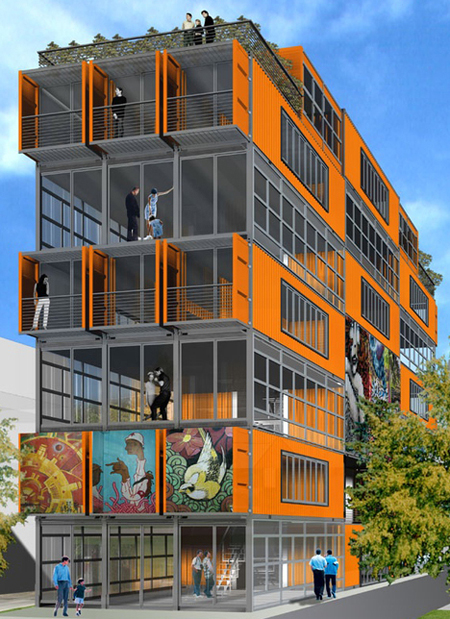 Designed by Adrian Smith and Gordon Gill, this tower called "Clean Technology Tower" would be constructed in Chicago as highly efficient building. The wind turbines will be placed at the corners of the building, to make sure it captures the wind at its highest velocity as it accelerates around the tower. If you have heard about recently featured solar Masdar Headquarters, that building also designed by the same firm who will build this clean technology tower. At the apex, where wind speeds are at a maximum, a domed double roof cavity directs the wind towards an array of wind turbines. The negative pressure created by the turbines will be used to ventilate interior spaces. The dome itself is shaded by solar cells that capture the southern sun.
Designer : Adrian Smith and Gordon Gill via MetaEfficient
Can you see yourself live in this cardboard house in the future ? Actually if you think about it, this is not so bad, this cardboard is very strong, waterproof, and easy to build (in fact you can build it today and live inside it tomorrow). The Cardboard House represents the reduction of technology and the simplification of needs. By demonstrating that they are able to recycle 100% of the building components at extremely low cost, the Cardboard House is a direct challenge to the housing industry to reduce housing and environmental costs.
The future expects us to be more eco friendly or we doom. All the material in the Cardboard House is recycled, and recyclable, making it an excellent environmentally sustainable option for housing. The Carboard House is made of recycled carboard supplied by Visy Industries. This is completed with a waterproof roof made from HDPE plastic, which also forms the material of the flexible under-floor water tanks and the novel kitchen and bathroom 'pods'.
Ready for your first house ? Get if for $32,204, pretty cheap for a house, isn't it ?
Designer : HouseOfTheFuture via Dvice
Another iconic building is going to be built in Malaysia. This is not surprising, since they do have two of the tallest buildings in the world, the Petronas Twin Towers. The design of Precinct4 is very unique, based on traditional Islamic architecture, marine-inspired structures, and radiating block of bioclimatic architecture.
The architect's goal (Hijjas Kasturi Associates, Malaysian architects) was to design buildings that tell of its place of origin which is culturally modern, Islamic and tropical in nature. While the designers goal (Studio Nicoletti Associati) was to provide a model for sustainable residential design that was inspired by the city's unique landscape which includes an expansive artificial lake. The biggest inspiration came from the sea and the entire development resembles a fleet of ships.
It is also said that the buildings will source from alternative energy and are expected to produce 50% less CO2 emissions than similar residential projects.
Designer : Studio Nicoletti Associati via Inhabitat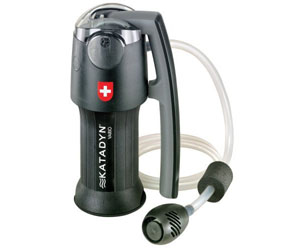 Our Recommended Partners
Advertise with us
Archives